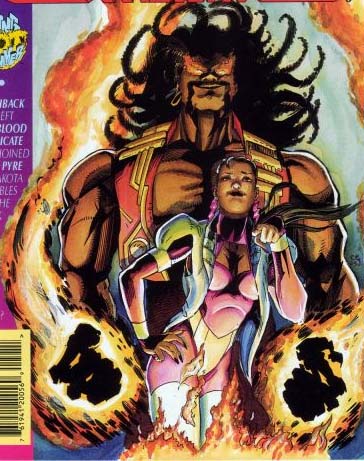 Halflife


Religion: not determined yet

Name: Halflife

Classification:

villain
First Appearance: Blood Syndicate #29 (Aug. 1995): "Admission Price: Death"
Creators: Ivan Velez Jr., ChrisCross, Rober Quijano
Super? (Has Super Powers/Special Abilities/Technology): Yes
Number of Appearances: 2
Enemy of: Blood Syndicate
Ally: Pyre (Leonard Smalls)
Note: part of Pyre's Brigade
Summary of Blood Syndicate #29 (Aug. 1995), from now-defunct webpage at http://milestone.luthor.com/comics_detail.asp?ID=87&:
Utopia Park is being built around the Factory. Tech-9 hints at a revolution. We meet Pyre's Brigade: Tarmack, Bad Betty, Halflife, Z, Flashback and Pyre. Pyre and DMZ face-off concerning Flashback. Flashback decides to stay with Pyre. Fade steals money from Dakota Trust who backs Utopia Park. We see the effect Utopia Park is having on people. The Blood Syndicate leads the citizens of Paris Island to the park. The Blood Syndicate faces off with Pyre's Brigade and a full scale riot begins.