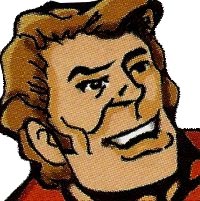 Gregory Russoff


Religion: not determined yet

Name: Gregory Russoff

Other Names: Baron Russoff; Baron Gregory Russoff

Classification:

supporting character
Publisher(s):

First Appearance: Marvel Spotlight (vol. 1) #2 (Feb. 1972): "Werewolf By Night"
Creators: Roy Thomas, Jean Thomas, Gerry Conway, Mike Ploog
Super? (Has Super Powers/Special Abilities/Technology): Yes
Number of Appearances: 9
Family/Relatives: Jack Russell (son), Lissa Russell (daughter), Laura Russell (wife), Maria Russoff (mother)
Occupation: aristocrat
Location: Medias, Transylvania, Romania
Race: white
Gender: male
Note: werewolf; father of Jack Russell (Werewolf By Night)
Gregory Russoff was Transylvanian aristocrat and nobleman. He was the son of Gregor Russoff and Maria Russoff.
Gregory Russoff (also known as Baron Russoff) is the father of Jack Russell, the young man known to many as Werewolf By Night.
Baron Russoff routinely locked himself away in a tower in this castle for three nights ever month. When Jack Russell was quite young, lightning damaged the tower, and Russoff, as a werewolf, escaped and killed a carpenter in the village.
Local villagers in their home in Medias, Transylvania hunted the werewolf. A mob of villagers killed Gregory Russoff. Baron Russoff's son Jack grew up not knowing his biological father. His mother remarried (to a man named Philip Russell). Jack did not know about his ancestral werewolf curse until he turned into a werewolf himself at the age of 18.
Russoff Castle, the home of Gregory Russoff, and the home of the Russoff family for many generations, was located in Borgo Pass, Transylvania. Some time after Gregory Russoff died, the castle was relocated and reconstructed on Blackgar Island. Dr. Miles Blackgar, owner of the island, is the man who purchased Russoff Castle and arranged for its transportation and meticulous reconstruction.
The Russoff family also owned a summer home known as Russoff Manor. Located in Transylvania, Russoff Manor was used as a base by Maria Russoff when she sent zombies to attack villagers who had killed her Gypsies many years before.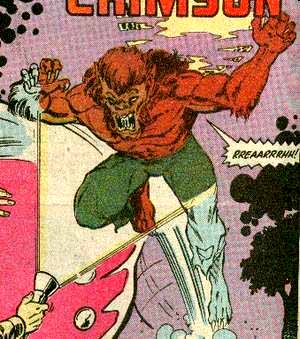 This character is in the following 8 stories which have been indexed by this website:

Giant-Size Werewolf #3 (Jan. 1975): "Castle Curse!"

Marvel Spotlight

Werewolf by Night

Suggested links for further research about this character:
- http://www.comicvine.com/baron-gregory-russoff/29-59216/
- http://comicbookdb.com/character.php?ID=13483
- http://www.marvunapp.com/master/rprz.htm
- http://www.comicvine.com/marvel-spotlight-werewolf-by-night/37-11995/
- https://www.comics.org/issue/24881/
- http://comicbookdb.com/issue.php?ID=19234
- http://marvel.wikia.com/Marvel_Spotlight_Vol_1_2