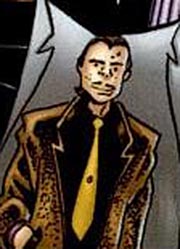 Javi Lagarto


Religion: not determined yet

Name: Javi Lagarto

Classification:

villain
Publisher(s):

First Appearance: Painkiller Jane (vol. 1) #0 (Jan. 1999): "Jane's Addiction"
Creators: Brian Augustyn, Jimmy Palmiotti, Joe Quesada, Amanda Conner
Number of Appearances: 1
Enemy of: Painkiller Jane, Neal Garner, Lindy
Occupation: drug lord
Location: New York City, New York, USA
Gender: male
Note: very short; tried to sell drugs at club Noir
Javi Lagarto, a drug lord who was very short in stature, wanted to sell drugs at a nightclub called "Noir." To that end, he threatened the club with a hand grenade. This whole scenario made a dramatic and tragic turn for the worse when somebody trying to be a good Samaritan tried to stop Javi. Unfortunately, the hand grenade exploded, killing nearly everybody in the club.
Painkller Jane was present, having been asked to stop Javi Lagarto. She survived, but found herself stuck in a basement with a young woman who was severely injured and dying.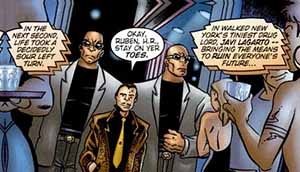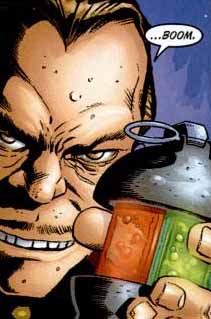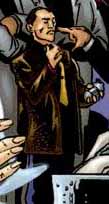 This character is in the following 2 stories which have been indexed by this website:

Essential Painkiller Jane (2006): "Jane's Addiction"

Painkiller Jane (vol. 1) #0 (Jan. 1999): "Jane's Addiction"

Suggested links for further research about this character:
- http://www.comicvine.com/javi-lagarto/4005-73839/
- http://www.comicvine.com/painkiller-jane-0-janes-addiction/4000-126728/
- http://www.comiccollectorlive.com/LiveData/Issue.aspx?id=5db2a6e7-03d2-492a-91de-d83f1ee837c2