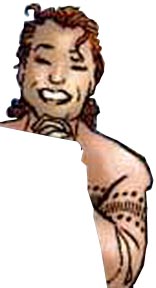 Maria Vasko


Religion: not determined yet

Name: Maria Vasko

Classification:

supporting character
Publisher(s):

First Appearance: Painkiller Jane (vol. 1) #0 (Jan. 1999): "Jane's Addiction"
Creators: Brian Augustyn, Jimmy Palmiotti, Joe Quesada, Amanda Conner
Number of Appearances: 1
Family/Relatives: Jane Vasko (daughter), Karl Vasko (husband), Carla Vasko (daughter)
Location: New York City, New York, USA
Race: white
Gender: female
Note: Painkiller Jane's mother
Karl Vasko and his wife Maria Vasko immigrated to the United States. Eventually they had two daughters.
The eldest daughter - Jane Vasko - became a police officer. Eventually an undercover case ended up with her being subjected to a cocktail of bad drugs. This almost killed her, and left her in a coma for over a year. While Jane was in a coma, both of her parents dies.
After Jane woke, up, the death of her parents was a large part of what inspired her to become the vigilante "Painkiller Jane."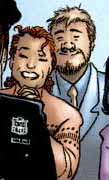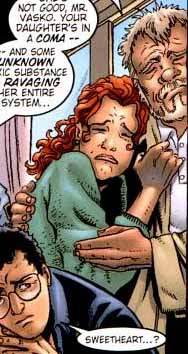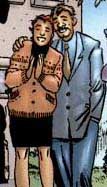 This character is in the following 2 stories which have been indexed by this website:

Essential Painkiller Jane (2006): "Jane's Addiction"
(5-panel cameo)

Painkiller Jane (vol. 1) #0 (Jan. 1999): "Jane's Addiction"
(5-panel cameo)

Suggested links for further research about this character:
- http://www.comicvine.com/maria-vasko/4005-73841/
- http://www.comicvine.com/painkiller-jane-0-janes-addiction/4000-126728/
- http://www.comiccollectorlive.com/LiveData/Issue.aspx?id=5db2a6e7-03d2-492a-91de-d83f1ee837c2
- http://www.comicvine.com/blanco-brothers/4060-57848/