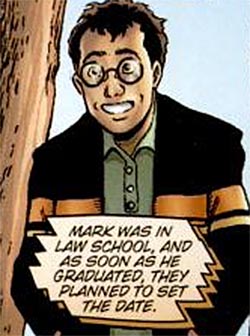 Mark Willofsky


Religion: not determined yet

Name: Mark Willofsky

Classification:

supporting character
Publisher(s):

First Appearance: Painkiller Jane (vol. 1) #0 (Jan. 1999): "Jane's Addiction"
Creators: Brian Augustyn, Jimmy Palmiotti, Joe Quesada, Amanda Conner
Number of Appearances: 1
Romantic Interest: Jane Vasko
Occupation: college student
Location: New York City, New York, USA
Race: white
Gender: male
Note: Painkiller Jane's childhood sweetheart, fiance
Mark Willofsky was the childhood sweetheart of Jane Vasko, who grew up to become a New York City police officer and then detective.
Mark and Jane were engaged when a case went very bad and Jane ended up in a coma after being subjected to drugs by the Blanco Brothers.
Mark stayed around for a while, but Jane's coma lasted a long time - over a year. Before Jane woke up, Mark had met another woman and married her.
After Mark's former fiance Jane Vasko woke up, she became the vigilante "Painkiller Jane."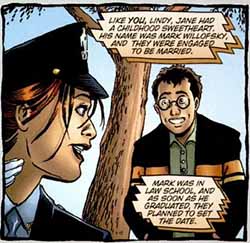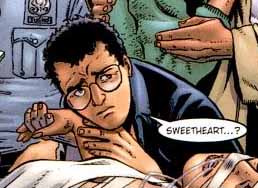 This character is in the following 2 stories which have been indexed by this website:

Essential Painkiller Jane (2006): "Jane's Addiction"
(3-panel cameo)

Painkiller Jane (vol. 1) #0 (Jan. 1999): "Jane's Addiction"
(3-panel cameo)

Suggested links for further research about this character:
- http://www.comicvine.com/mark-willofsky/4005-73861/
- http://www.comicvine.com/painkiller-jane-0-janes-addiction/4000-126728/
- http://www.comiccollectorlive.com/LiveData/Issue.aspx?id=5db2a6e7-03d2-492a-91de-d83f1ee837c2
- http://www.comicvine.com/blanco-brothers/4060-57848/