Cliff Doaks


Religion: not determined yet

Name: Cliff Doaks

Other Names: Clifford Doaks; Clifford "Cliff" Doaks

Classification:

supporting character
Publisher(s):

First Appearance: Painkiller Jane (vol. 1) #0 (Jan. 1999): "Jane's Addiction"
Creators: Brian Augustyn, Jimmy Palmiotti, Joe Quesada, Amanda Conner
Number of Appearances: 1
Teams/Affiliations: U.S. Army
Enemy of: Javi Lagarto, H.R., Ruben
Romantic Interest: Lindy
Occupation: soldier
Location: Rochester, New York, USA
Race: white
Gender: male
Note: at nightclub Noir bombed by Javi Lagarto
Cliff Doaks had served as a soldier in the "Desert Storm" conflict in the Middle East.
Years later, Doaks was engaged to be married to Lindy. They visited New York City two weeks before they were scheduled to be married. They managed to get into the swank night club "Club Noir."
Doaks and Lindy were sitting at a table marveling at the hip club scene when they saw drug lord Javi Lagarto threaten club owner Neal Garner with a grenade. Doaks tried to intervene, but ended up getting shot by Lagarto's bodyguards Ruben and H.R. Then Neal Garner shot Lagarto, but the drug lord dropped the grenade, which apparently killed most everybody in the club, including Cliff Doaks and Lindy.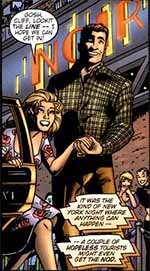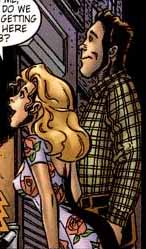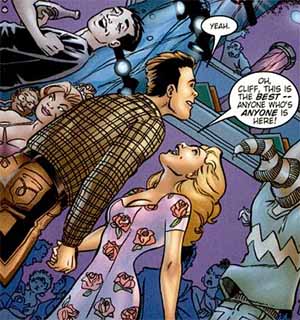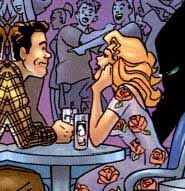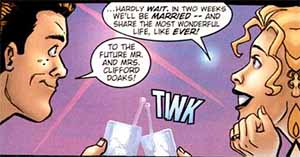 This character is in the following 2 stories which have been indexed by this website:

Essential Painkiller Jane (2006): "Jane's Addiction"

Painkiller Jane (vol. 1) #0 (Jan. 1999): "Jane's Addiction"

Suggested links for further research about this character:
- http://www.comiccollectorlive.com/LiveData/Issue.aspx?id=5db2a6e7-03d2-492a-91de-d83f1ee837c2
- http://www.comicvine.com/street-gangs/4060-30590/
- http://www.comicvine.com/painkiller-jane-0-janes-addiction/4000-126728/