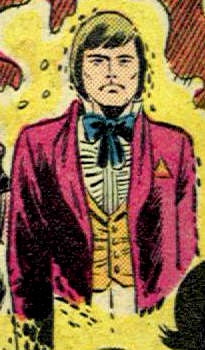 The Religious Affiliation of


Gideon Blaine


Religion: magician; ghost

Name: Gideon Blaine
Classification:

supporting character
Publisher(s):

First Appearance: Werewolf by Night (vol. 1) #34 (Oct. 1975): "Not All the Shades of Death, Nor Evil's Majesty"
Creators: Doug Moench, Don Perlin
Super? (Has Super Powers/Special Abilities/Technology): Yes
Number of Appearances: 4
Enemy of: Soul-Eater
Family/Relative: Mrs. Blaine (wife)
Helped: Werewolf By Night, Topaz, Buck Cowan
Occupation: wizard
Race: white
Gender: male
Note: 19th Century magician; sacrificed self to save Buck Cowan
When Gideon Blaine first appeared, he did not appear in his true form. He was a ghost inhabiting Marcosa House. Jack Russell and companions (including Buck Cowan and Topaz) came to Marcosa House to investigate paranormal phenomena there. Blaine appeared as the ghost of a Translyvanian peasant and claimed he was the spirit of the first person to become a werewolf under the familiar lycanthropy curse which Jack Russell inherited. At one point, Gideon Blaine's ghost even transformed into a werewolf and attacked Jack Russell and his friends.
Later the ghost of Gideon Blaine told them the truth about who he was - that he was a 19th Century magician whose beloved wife was killed by the evil and sadistic sorcerer Belaric Marcosa. In seeking vengeance, Gideon himself became one of Marcosa's many victims.
This character is in the following 4 stories which have been indexed by this website:

Werewolf by Night

Suggested links for further research about this character and the character's religious affiliation:
- http://marvel.wikia.com/Gideon_Blaine_(Earth-616)
- http://www.comicvine.com/gideon-blaine/4005-35943/
- http://www.marvunapp.com/master/blackwblaz.htm
- https://www.comics.org/issue/29143/
- http://marvel.wikia.com/Werewolf_by_Night_Vol_1_34
- http://www.comicvine.com/werewolf-by-night-34-not-all-the-shades-of-death-n/4000-15709/