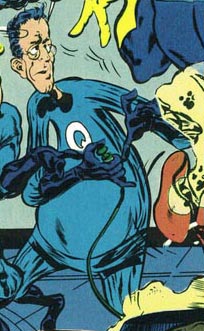 Liquid Man


Rex Rigid

Religion: not determined yet

Name: Liquid Man

Alter Ego: Rex Rigid

Other Names: Mr. Waterballoon; Mister Waterballoon; Liquid-Man; Professor Rigid

Classification:

hero

scientist
Publisher(s): Kitchen Sink Press
First Appearance: Megaton Man (vol. 1) #1 (Nov. 1984): "They Call the Doctor... Software!"
Creators: Don Simpson
Super? (Has Super Powers/Special Abilities/Technology): Yes
Number of Appearances: 5
Teams/Affiliations: The Megatropolis Quartet
Occupation: professor, scientist
Location: Megatropolis, Michigan, USA
Race: white
Gender: male
Note: parody of Mr. Fantastic
Although much older than her, Rex Rigid is married to See-Thru Girl.
Somewhat confusingly, Rex Rigid has two super-hero code names, which he apparently uses simultaneously. But Liquid Man (or sometimes "Liquid-Man") IS the same person as Mr. Waterballoon. Note that in panel 4 on page 4 of Megaton Man #1 (Nov. 1984), Megaton Man says: "Now what? I'm offbalance, careening headlong into Liquid-Man, alias Mister Waterballoon!"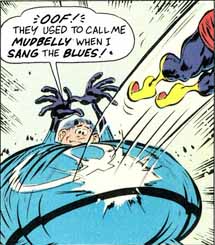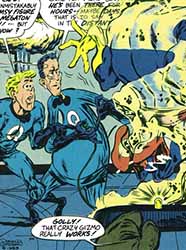 This character is in the following 15 stories which have been indexed by this website:

Don Simpson's Bizarre Heroes #1 (May 1994): "Nexus of the Worlds"

Megaton Man

Megaton Man Meets the Uncategorizable X+Thems #1 (Apr. 1989): "The Orginal Golden Age Megaton Man meets the Uncategorizable X+Thems!"

The Return of Megaton Man

Savage Dragon Vs. Savage Megaton Man #1 (Mar. 1993): "Savage Brawl"

Suggested links for further research about this character:
- http://comicbookdb.com/character.php?ID=9068
- https://www.comics.org/issue/39294/
- http://prankster36.livejournal.com/32827.html
- https://www.comics.org/issue/39683/