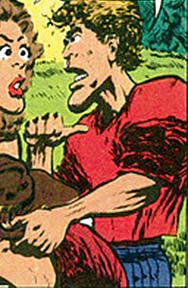 Bullet Bumpkin


Religion: not determined yet

Name: Bullet Bumpkin

Other Names: "Bullet" Bumpkin; Bullet

Classification:

supporting character
Publisher(s): Kitchen Sink Press
First Appearance: Megaton Man (vol. 1) #1 (Nov. 1984): "They Call the Doctor... Software!"
Creators: Don Simpson
Number of Appearances: 1
Enemy of: Megaton Man
Occupation: college student
Location: Megatropolis, Michigan, USA
Race: white
Gender: male
Note: bully at university Megaton Man attended
Flash Thompson parody.