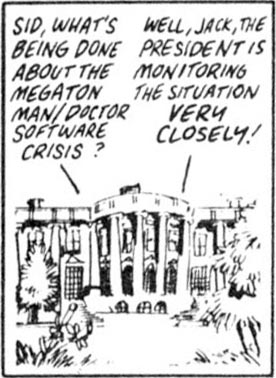 Sid


Religion: not determined yet

Name: Sid

Classification:

supporting character
Publisher(s): Kitchen Sink Press
First Appearance: Megaton Man (vol. 1) #1 (Nov. 1984): "They Call the Doctor... Software!"
Creators: Don Simpson
Number of Appearances: 1
Employer: White House
Occupation: advisor, government official
Location: Washington, D.C., USA
Gender: male
Sid and Jack are two high-level federal government advisors whose dialogue is featured in panels 1 through 4 on page 16 in Megaton Man #1 (Nov. 1984). These panels are part of a full-page parody of the popular Doonesbury newspaper comic strip.
Jack: "Sid, what's being done about the Megaton Man/Doctor Software crisis?"
Sid: "Well, Jack, the President is monitoring the situation very closely! The armed forces have been put on world-wide alert! A navy armada is sailing to Megatropolis in case Megaton Man loses! And we just sent the button out to be oiled!"
Jack: "You just sent the button--?"
Sid: "We feel this may be the big one!"
Sid is featured again on page 25, in another Doomesbury strip. Once again, only his dialogue is seen. In this strip, he is talking to somebody named Howie. Once again, they are discussing the latest national crisis as it happens: a pitched battle between Megaton Man and Doctor Software's creation, the Contraptoid.