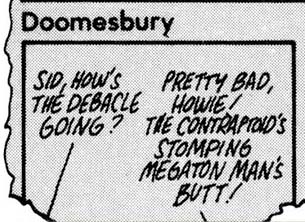 Howie


Religion: not determined yet

Name: Howie

Other Names: Howard

Classification:

supporting character
Publisher(s): Kitchen Sink Press
First Appearance: Megaton Man (vol. 1) #1 (Nov. 1984): "They Call the Doctor... Software!"
Creators: Don Simpson
Number of Appearances: 1
Employer: White House
Ally: Sid
Occupation: advisor, government official
Location: Washington, D.C., USA
Gender: male
Note: in White House, discusses latest crisis
Howie is a high-ranking government official who can be "seen" in the White House, talking with his colleague Sid about the latest national crisis. Howie is featured in a Doomesbury comic strip (a parody of Doonsbury) on page 25 in Megaton Man #1 (Nov. 1984). Only the dialogue of Sid and Howie can be seen. The bottom of half of the strip is not shown, so we do not see the characters themselves. It is possible that they characters were not even drawn in the "original" strip, as is often the case with Doomesbury (and Doonsbury) comic strips.
Howie: "Sid, how's the debacle going?"
Sid: "Pretty bad, Howie! The Contraptoid's stomping Megaton Man's butt!"
Howie: "Gosh! 'S'ere anything we can do?"
Sid: "Just save face with the American people! --Ask for Megaton Man's resignation and build more missiles!"
Howie: "So, Megaton Man is out and 'Minute-Man' is in?"
Sid: "Yup. One dense-pack for another!"