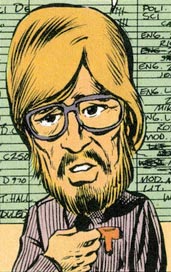 unnamed college intellectual


Religion: not determined yet

Name: unnamed college intellectual

Classification:

supporting character
Publisher(s): Kitchen Sink Press
First Appearance: Megaton Man (vol. 1) #2 (Feb. 1985): "Leavings and Beginnings!"
Creators: Don Simpson
Number of Appearances: 2
Ally: Stella Starlight
Occupation: college student
Worked for: The University of Michigan
Location: Ann Arbor, Michigan, USA
Race: white
Gender: male
Note: befriended Stella Starlight at college
A man whose name was not identifieid befriended Stella Starlight (recently retired from being the super-heroine See-Thru Girl) when she first started attending college.
On page 20 in Megaton Man #2 (Feb. 1985), Stella Starlight is seen registering for classes and picking up the materials she needs. A man with shoulder-length hair and a beard offers some sobering and satirical commentary about college.
college intellectual: "You're declaring your major is Liberal Arts, is that right?"
Stella Starlight: "Yes!"
college intellectual: "Well, here are all your punchcards, guidebooks, and student I.D.! You're now enrolled in the ivy-covered halls of higher learning! Congratulations! You realize, of course, that you'll be paying $640,000 for a piece of paper that'll be absolutely worthless in today's job market! But damn it, I admire you! It takes guts to take the rough route! You think for yourself!"
On the next page, the college intellectual is seen with Stella Starlight, walking out of a movie theater displaying "Jean-Luc Godard Film Festival" on the marquee. Stella was fascinated by this experience which the college intellectual took her to.
Stella exclaims: "Gee! This was my first encounter with foreign cinema! There's a lot of stuff I didn't understand! Like, why didn't Jean-Paul Belmondo just blast the bad guys with cosmic bolts? Why didn't Anna Karina use her elemental powers against Eddie Constantine? Why did Jean-Pierre Leaude just let Chantal Goya walk all over him instead of flaming on?"
The college intellectual says: "You mean, instead of dealing with their alienation on a human level, trying to alter their environments emotionally and intellectually-- they should just wreak mayhem? What a heavy, beautiful concept!"
Stella said: "Sure! It works, too!"
The college intellectual mused: "Wow! I can't wait 'til I take you to your first Fellini Festival!"
Stella thought to herself: "I'm almost an intellect already!"
It is not entirely clear what the position of this unnamed intellect is. He was clearly helping students register. It is possible he is simply a university employee, but he seems more like an upperclassman who has a campus job, or perhaps he was simply volunteering during the registration process. (Possibly he did this as a way to meet girls, which certainly worked in this case.) He is probably something of a "perpetual student" who is most comfortable in the university environment and in no hurry to leave.