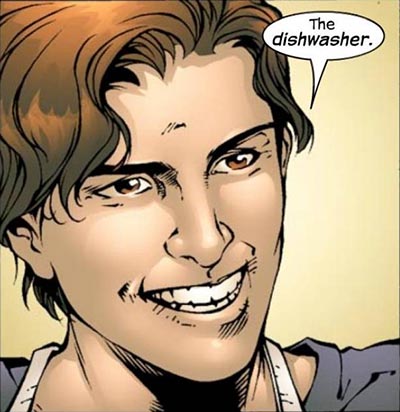 Troy Killkelly


Religion: not determined yet

Name: Troy Killkelly

Other Names: Troy Killikelly

Classification:

supporting character
Publisher(s):

First Appearance: Emma Frost #7 (Mar. 2004): "Mind Games, Part 1: Hellfire"
Creators: Karl Bollers, Carlo Pagulayan, Dennis Crisostomo
Number of Appearances: 6
Enemy of: Lucien Goff
Romantic Interest: Emma Frost
Family/Relatives: Mrs. Killkelly (mother), Mr. Killkelly (father)
Occupation: dishwasher
Worked for: Manok Mandok's
Location: Boston, Massachusetts, USA
Race: white
Gender: male
Note: Emma Frost's boyfriend right after she left home
Not long after Emma Frost graduated from high school she left home, intending to make it on her own. Even with her newly-emerged telepathic powers, she found doing so was more difficult than she had anticipated. Emma got caught trying to use her telepathic power to make regular newspaper appear like hundred dollar bills to pay her bill at a nice restaurant. She was put to work washing dishes and made an unlikely friend: regular dishwasher Troy Killkelly.
Learning about how "down and out" Emma was, Troy offered to let Emma crash at his place.
Troy and Emma got along well... but then hired goons showed up to collect on a $10,000 debt Troy owed their boss, a loan shark named Lucien.
This character is in the following 12 stories which have been indexed by this website:

Emma Frost

Emma Frost: Mind Games

Suggested links for further research about this character:
- http://www.comicvine.com/troy-killkelly/4005-79179/
- http://www.marvunapp.com/master/kiakim.htm
- https://www.comics.org/issue/278101/
- http://www.comicvine.com/emma-frost-7-mind-games-1-hellfire/4000-107668/