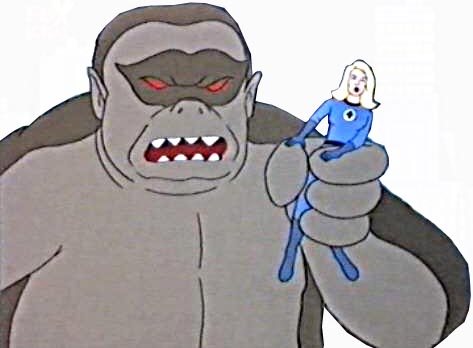 The Religious Affiliation of


A Monster Among Us


Religion: alien

Name: A Monster Among Us
Other Names: unnamed giant alien monster; unnamed giant apelike space alien
Classification:

villain
Publisher(s): DePatie-Freleng Enterprises


First Appearance: The Fantastic Four - Season 1, Episode 1 (9 Sep. 1978): "A Monster Among Us"
Creators: Stan Lee
Super? (Has Super Powers/Special Abilities/Technology): Yes
Number of Appearances: 1
Enemy of: U.S. Army, U.S. Air Force, U.S. Navy, The Fantastic Four, General Trescott
Family/Relative: unnamed giant alien father (father)
Defended or Helped by: The Fantastic Four
Gender: male
Note: emerged from space ship crash near NYC
A gigantic alien with ape-like features was the featured villain in the first episode of the 1978 animated "Fantastic Four" television series. The alien, who was never identified by name, is the character referred to in the episode title "A Monster Among Us."
The alien crashed in a space ship from outer space and headed to New York City, damaging property and threatening to do far more damage. The U.S. Army, Navy, and Air Force all mobilized to stop the monster.
At the end of the episode, it turns out that the alien wasn't really a "villain" or a "monster. The alien, despite its immense size, was really just a confused child. The Fantastic Four were able to discern that harming the gigantic alien would put the Earth in great peril, and they ended up defending it, primarily by Invisible Girl making the alien invisible so the military couldn't see it to continue attacking it.
A large space ship landed and even larger alien emerged. This larger alien thanked the Fantastic Four for protecting his lost son.
So despite being called a "monster," the titular creature in "A Monster Among Us" turned out to be the child of an intelligent race of space-faring aliens.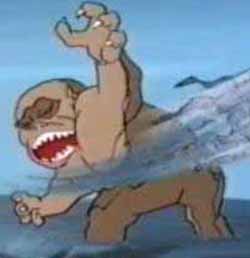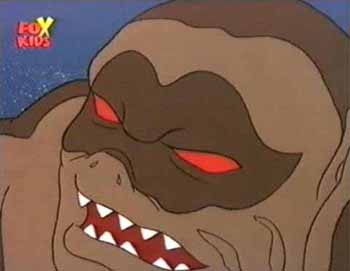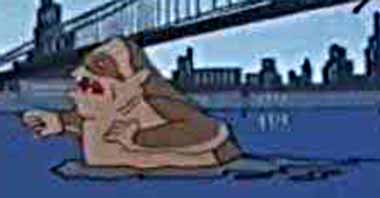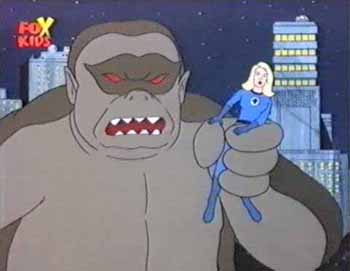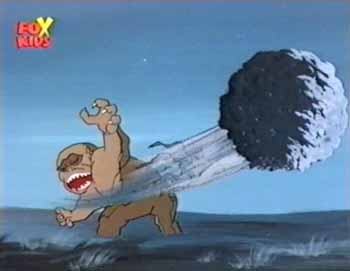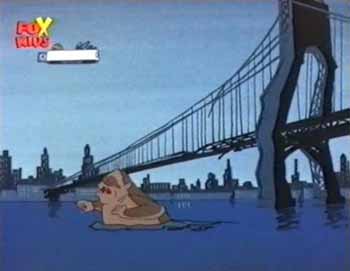 This character is in the following story which has been indexed by this website:

The Fantastic Four - Season 1, Episode 1 (9 Sep. 1978): "A Monster Among Us"

Suggested links for further research about this character and the character's religious affiliation:
- http://marvel.toonzone.net/ff1978/episode/monsteramong/
- http://marvel.wikia.com/Fantastic_Four_(1978_animated_series)_Season_1_1
- http://www.imdb.com/title/tt0914571/
- http://en.wikipedia.org/wiki/Fantastic_Four_(1978_TV_series)