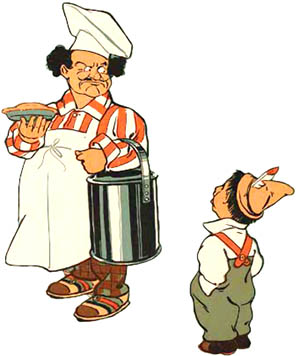 the pieman


Religion: not determined yet

Name: the pieman

Other Names: a pieman; Pieman; unnamed pieman; Able Baker

Classification:

supporting character
Publisher(s): Celebrity Productions
First Appearance: Simple Simon (1764)
Creators: , Paul Henry (actor)
Number of Appearances: 5
TV, Film Appearances: 4
Prose/Text Book/Story Appearances: 1
Occupation: baker
Nation: England, United Kingdom
Race: white
Gender: male
Note: in nursery rhyme, met Simple Simon, going to the fair
Excerpt from newspaper article about this program:
Shirley Temple will play a major role and her three children -- Linda Susan, Charles. 6, and Lorl. 4 -- will appear as village children in "Mother Goose," the Christmas musical to be colorcast on "Shirley Temple's Storybook" Sunday over Chan. 2. Elsa Lanchester will play the title role. This will mark the television debut of Shirley's children only one of whom, Charles, will play a speaking part in the nursery rhyme tale. It will be Charles' duty to shinny vp a pole to see if he can sight Mother Goose approaching the town of Skeddlestone, an event which marks the opening of the annual town fair. Shirley will portray Polly Baker, the young lady of whom the verse "Polly put the Kettle on" was written.
Other fairy tale characters to appear in the fantasy include Able Baker (Billy Gilbert), also known as the Pieman whom Simple Simon met. Carleton Carpenter will play Polly Baker's sweetheart, Tom Piper who in former days had stolen a pig. Jack and Jill, Georgie Porgie, Little Miss Muffet. Wee Willie Winkie, the Cat and the Fiddle and dozens of other Mother Goose characters will people the fanciful tale.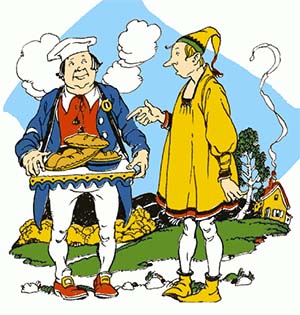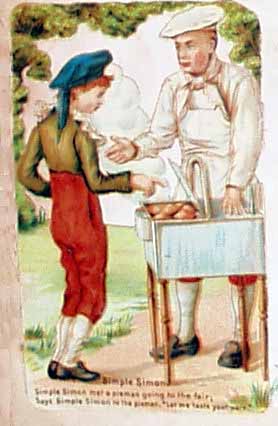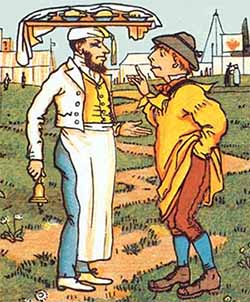 This character is in the following 13 stories which have been indexed by this website:

The Case Against Jill (2010)

Four Color

Hey-Hey Fever (1935)
(mentioned)

Little Boo-Peep (1953)

The Little Match Girl (1974)

Mother Goose Goes Hollywood (1938)

Off to See the Wizard - Season 1, Episode 6 (13 Oct. 1967): "Who's Afraid of Mother Goose?"

Puff the Magic Dragon (1978)

Sharon, Lois & Bram's Elephant Show - Season 4, Episode 43 (1987): "Mother Goose"

Shirley Temple's Storybook - Season 1, Episode 16 (21 Dec. 1958): "Mother Goose"

Simple Simon

Suggested links for further research about this character:
- http://en.wikipedia.org/wiki/Simple_Simon_(nursery_rhyme)
- http://www.imdb.com/character/ch0271039/
- http://www.imdb.com/title/tt0027001/