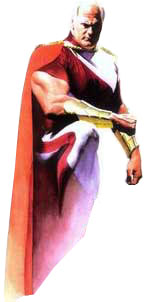 The Religious Affiliation of


Supreme


Ethan Crane

Religion: Christian (denomination unknown)

Name: Supreme
Alter Ego: Ethan Crane
Classification:

hero
First Appearance: Youngblood (vol. 1) #3 (Aug. 1992): "Enter--Heavymettle"
Creators: Brian Murray, John Dickenson
Super? (Has Super Powers/Special Abilities/Technology): Yes
Number of Appearances: 101
Teams/Affiliations: Brigade; Heavy Mettle; The Allies
Gender: male
Moore did not simply ignore the events of the previous issues; he turned them into a central part of his Supreme storyline. Supreme discovered there had been many previous versions of himself. Retired Supremes lived in another reality, dubbed the "Supremacy" by its inhabitants, an afterlife for characters whose stories had come to an end.
Moore was a prominent member of the super-hero team known as the "Allied Supermen of America" (ALA). When the team later re-formed as the "Allies," he was a prominent member of this incarnation of the team as well.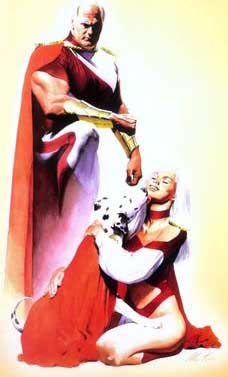 This character is in the following 4 stories which have been indexed by this website:

Supreme

Supreme: The New Adventures #43 (Oct. 1996): "Obscured by Clouds!"
(lead character)

Youngblood (vol. 1) #3 (Aug. 1992): "Enter--Heavymettle"
(lead character)

Suggested links for further research about this character and the character's religious affiliation:
- http://www.adherents.com/lit/comics/Supreme.html
- http://en.wikipedia.org/wiki/Supreme_(comics)
- http://www.comicvine.com/supreme/29-6538/