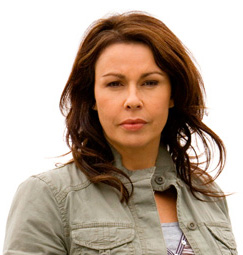 The Religious Affiliation of


Abby Grant


Religion: religious/ethical

Name: Abby Grant
Other Names: Abbey Grant
Classification:

lead character
Publisher(s):

First Appearance: Survivors - Season 1, Episode 1 (16 July 1976): "A Beginning"
Creators: Terry Nation, Pennant Roberts, Carolyn Seymour (actress)
Number of Appearances: 26
TV, Film Appearances: 25
Prose/Text Book/Story Appearances: 1
Family/Relatives: David Grant (husband), Peter Grant (son)
Nation: England, United Kingdom
Race: white
Gender: female
Note: contracts deadly flu but survives
Abby Grant is the central protagonist in the 1976 BBC TV series "Survivors," the novelization of the series, and also the 2008 TV series which as a remake of the original. Although there were many significant character changes between the two series, Abby Grant was the protagonist in both. But "Survivors" is very much an ensemble show, with a core of 6 to 8 characters sharing the spotlight. Abby Grant's role could be seen as "most important ensemble cast member" more than pure "central protagonist." "Survivors" is certainly not a single-character story focusing on her.
"Survivors" tells the story of the remaining survivors of a deadly strain of flu which wipes out over 95% of the world's population. All of the people who survived had innate immunity, with the only exceptions being Abby Grant and her son Peter. Unlike all other survivors, who never contracted this strain of the flu at all, Abby Grant and her son Peter did become ill with the disease, almost died, but recovered to full health. This gives Abby Grant a special place of importance in the broader scope of the "Survivors" series, although she does not realize her importance for many episodes. Eventually the shadowy force behind the flu outbreak - a pharmaceutical company who accidentally created the disease - learns of Abby's unique history with the disease. They capture her and experiment on her in an attempt to use her body's unique antibodies to create a vaccine which they hope to use to immunize a small pocket of survivors who escaped to safety before the outbreak.