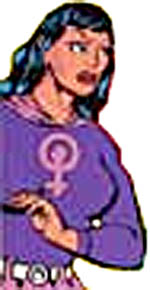 The Religious Affiliation of


Herta


Religion: Feminist

Name: Herta
Classification:

hero
Publisher(s): Oms Inraknad
First Appearance: Kapten Stofil #2 (2000)
Creators: David Nessle
Super? (Has Super Powers/Special Abilities/Technology): Yes
Number of Appearances: 25
Nation: Sweden
Gender: female
Herta's overt arch brand of Feminism was the defining aspect of her character.
The Kapten Stofil series ran for at least 36 issues. Herta was the main character's principle girlfriend and a major supporting character, so I'm estimating that she appeared in at least 25 of these issues, although I haven't found direct confirmation of this yet. I have seen references to her in plot synopses for many of these issues. Herta even had some solo stories.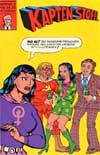 This character is in the following story which has been indexed by this website:

Kapten Stofil #2 (2000)

Suggested links for further research about this character and the character's religious affiliation:
- http://www.internationalhero.co.uk/m/maskeradeproggaren.htm
- http://www.kaptenstofil.net/tidigare_nummer.php
- http://sv.wikipedia.org/wiki/Den_Maskerade_Proggaren
- http://www.tidskrift.nu/artikel.php?Id=615