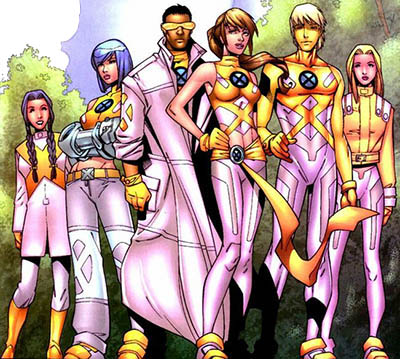 Xavier Institute: New Mutants squad


Name: Xavier Institute: New Mutants squad

Other Names: New X-Men

Classification:

supporting characters

group
Publisher(s):

Type of Organization/Group: student
Studied at: Xavier Institute
The "New Mutants" squad was one of the training squads studying at the Xavier Institute for Higher Learning, mainly in the second New Mutants series, which led into the New X-Men: Academy X series, the title of which was eventually shortened to New X-Men. This was at a time when there was about half a dozen squads of students at the Xavier school. Each squad had about 5 to 8 mutant students in it.
The second volume New Mutants series and its successor series New X-Men focused on two squads: the New Mutants squad and the Hellions squad. Although these characters were featured in a series titled "New X-Men," and all of these students could be considered "X-Men in training," there was never a group formally known in the comics as the "New X-Men" until after "M-Day," at which time most of the world's mutants permanently lost their powers and became regular humans. The school's student population dropped from 182 to 27, and headmistress Emma Frost picked a select group of students to train as "New X-Men."
In this database, the group name "New X-Men" refers to members of this new training squad formed after M-Day. This grouping does not refer generally to characters featured in the "New X-Men" series.
Number of group members listed below: 8
Character
(Click links for info about character
and his/her religious practice, affiliation, etc.)
Religious
Affiliation
Team(s)


[Notes]

Pub.
#
app.

| | |
| --- | --- |
| | anti-mutant (former) |

The Reavers; X-Force...
[discovered powers while trying to join anti-mutant Reavers]
118

| | |
| --- | --- |
| | Baptist |

Xavier Institute: Hellions squad; Xavier Institute: New Mutants squad
21
black; Xavier Institute: New Mutants squad
106
Asian; New X-Men...
151
Xavier Institute: New Mutants squad
53

| | |
| --- | --- |
| | Catholic |

Hellions; Hispanic...
75
Xavier Institute: Hellions squad; Xavier Institute: New Mutants squad
49
Xavier Institute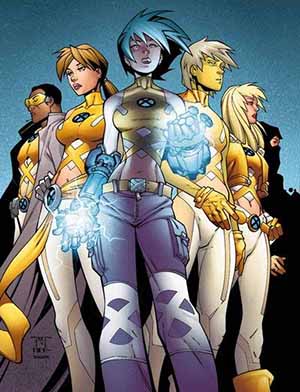 Suggested links for further research about this character:
- http://en.wikipedia.org/wiki/New_X-Men