The Religious Affiliation of


Chloe Teal


Religion: agnostic

Name: Chloe Teal
Other Names: Teal; Diplomatic Officer Chloe Alice Teal
Classification:

supporting character
Publisher(s):

First Appearance: Hyperdrive - Season 1, Episode 1 (8 Jan. 2006): "A Gift from the Glish"
Creators: Kevin Cecil, Andy Riley, John Henderson, Miranda Hart (actress)
Number of Appearances: 12
Employer: Space Force
Occupation: diplomat
Worked for: HMS Camden Lock
Nation: United Kingdom
Race: white
Gender: female
Diplomatic Officer Chloe Alice Teal (usually referred to simply as "Teal") is a large-statured woman who serves as third-in-command on the British starship HMS Camden Lock. She is the most frequent companion and confidante of Commander Henderson (more so than first officer York, who is extremely unlikeable). Teal can be regarded as the second most important character on the TV series Hyperdrive.
Teal has a huge crush on Henderson, something which is obvious to everybody. He does not reciprocate, however.
Teal seems to mean well, but she is genuinely incompetent in her position as the ship's diplomatic officer. She failed the exam to become an officer and she only obtained her position on the HMS Camden Lock because her father is an ambassador. It should be noted that all of the principle officers on the Camden Lock are mostly incompetent, so Teal is not unusual in this.
Teal also serves as a yoga instructor on the ship.
In the future of 2151 depicted in the TV series Hyperdrive, agnosticism is considerably more organized than it is today. In the episode Green Javelins, Chloe Teal tells Commander Henderson that she does not want their starship to join the precision flying team known as the Green Javelins because the team's leader (Mason, played by actor Stephen Mangan) broke her heart when she was young. Teal explains that the two of them met when they both attended a youth camp for agnostics.
Later in the episode, much more is revealed about the organized agnosticism that Teal and Mason are adherents of. Mason confides in Teal that he has lost his agnosticism and asks Teal to help him rekindle his ambiguous beliefs. They sing agnostic hymns together and exchange further dialogue which reveals quite about their shared nebulous beliefs.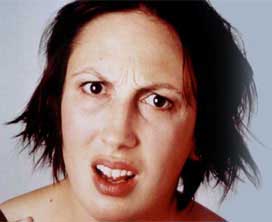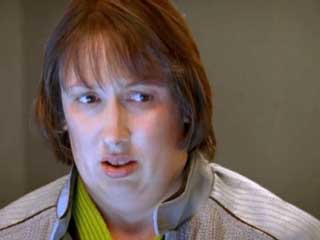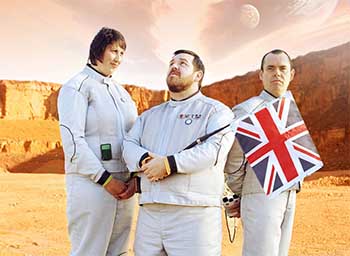 Suggested links for further research about this character and the character's religious affiliation:
- http://en.wikipedia.org/wiki/Hyperdrive_(TV_series)
- http://www.imdb.com/title/tt0481449/