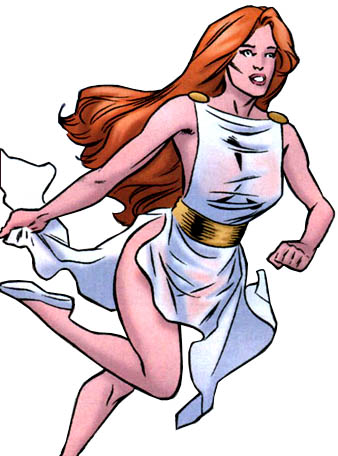 The Religious Affiliation of


Venus


Religion: Greco-Roman classical religion

Name: Venus
Other Names: Victoria "Vicki" Starr; Victoria Nutley Starr; Aphrodite
Classification:

hero
First Appearance: Venus #1 (Aug. 1948): "Venus Comes to Earth"
First Appearance (Additional Details): (modern) Sub-Mariner (vol. 1) #57 (Jan. 1973): "In the Lap of the Gods!"
Creators: George Klein, Lin Streeter
Super? (Has Super Powers/Special Abilities/Technology): Yes
Number of Appearances: 85
Teams/Affiliations: Agents of Atlas
Ally: Champions
Race: Siren
Gender: female
One should be careful to distinguish between this character, "Venus" a.k.a. "Aphrodite," who is a siren posing as the Greco-Roman goddess Venus and is a member of the Agents of Atlas group, and the actual, original Greco-Roman goddess. The goddess regards the Agent of Atlas "Venus" as an impostor and is none too pleased with her.
This character is in the following 18 stories which have been indexed by this website:

Agents of Atlas

Assault on New Olympus Prologue

Dark Reign Files #1 (Apr. 2009)

Marvel Valentine Special #1 (Apr. 1997): "Atom-Age Amore"
(lead character)

Spider-Man Family (vol. 2) #4 (Oct. 2007): "The Producers"

Sub-Mariner (vol. 1) #57 (Jan. 1973): "In the Lap of the Gods!"

Venus

Suggested links for further research about this character and the character's religious affiliation:
- http://en.wikipedia.org/wiki/Venus_(Marvel_Comics)
- http://www.comicvine.com/venus/29-12632/
- http://www.comicboards.com/marvelguide/v.htm
- http://www.marvunapp.com/master/vevh.htm
- http://www.marvunapp.com/master/ag.htm