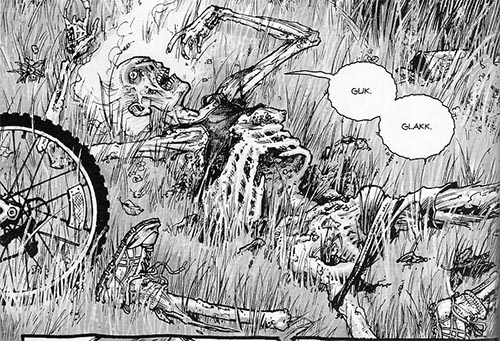 The Religious Affiliation of


Hannah


Religion: Christian (denomination unknown)

Name: Hannah
Other Names: Bicycle Girl Walker; bicycle girl zombie; unnamed zombie
Classification:

supporting character
Publisher(s):

First Appearance: The Walking Dead #1 (Oct. 2003): "Days Gone Bye, Part 1"
Creators: Robert Kirkman, Tony Moore, Melissa Cowan (actress)
Number of Appearances: 8
Comic Book Appearances: 1
TV, Film Appearances: 1
Websites: 6
Enemy of: zombies
Location: Cynthiana, Kentucky, USA
Race: white
Gender: female
Note: first zombie Rick Grimes killed
Hannah was the first zombie that Rick Grimes killed. She is seen in the very first issue of The Walking Dead comic book series and the first episode of the TV series. Rick finds her mostly immobile by a bicycle, a bicycle which he confiscates and uses to ride from Harrison Memorial Hospital into town to his own home.
Hannah's legs have been destroyed to the extant that she can't walk, but she can crawl. Before leaving town on his way to Atlanta, Rick goes back to find Hannah and shoots her in the head so that she be at peace.
Further details about Hannah's life and the events which led to her becoming a zombie were later revealed in a six-part web-series "The Walking Dead: Torn Apart," which was originally aired on AMC's official website in October, 2011 to promote the start of the second season a few weeks later.
As first seen in her "zombified" form, Hannah was played briefly by Melissa Cowan. The character was more fully developed (in her pre-zombie state) in the webisodes by actress Lilli Birdsell.
As portrayed in the webisodes, Hannah is apparently a religious character. In the episode "Torn Apart," Hannah tells her children that death is "a part of God's plan."
This character is in the following story which has been indexed by this website:

The Walking Dead #1 (Oct. 2003): "Days Gone Bye, Part 1"
(7-panel cameo)

Suggested links for further research about this character and the character's religious affiliation:
- http://walkingdead.wikia.com/wiki/Hannah_(Webisodes)
- http://www.comicvine.com/hannah/4005-83093/
- http://www.imdb.com/title/tt1589921/fullcredits
- http://walkingdead.wikia.com/wiki/Themes:_Religion