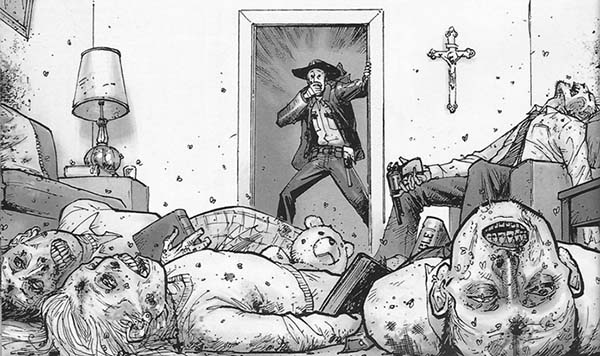 The Religious Affiliation of


unnamed Georgia family


Religion: Christian (denomination unknown)

Name: unnamed Georgia family
Classification:

supporting characters

group
Publisher(s):

First Appearance: The Walking Dead #2 (Oct. 2003): "Days Gone Bye, Part 2"
Creators: Robert Kirkman, Tony Moore
Number of Appearances: 2
Comic Book Appearances: 1
TV, Film Appearances: 1
Enemy of: zombies
Type of Organization/Group: farmer
Race: white
Note: devout; committed suicide when zombie outbreak began
A devoutly religious family consisting of a husband, wife, and two children (who appear to be between 10 and 16 years old) lived in a farmhouse in Georgia, not far from the Tennessee-Georgia border. When a zombie outbreak occurred, they became infected and started to turn into zombies. Rather than allow themselves to continue an existence as horrific undead zombies, they gathered together, read their Bibles together for one last time, and committed suicide.
In the opening pages of The Walking Dead #2, Rick Grimes is driving from his native Cynthiana, Kentucky en route to Atlanta, Georgia, where he hopes to find his family. Soon after passing the Tennessee-Georgia, border, the police car he is driving runs out of gas. He can't find a working gas pump. He walks from the freeway to a farmhouse he sees from the road. He knocks on the door, but there is no answer. He enters the home, stating: "I'm not here to hurt or rob you.. I just need some gasoline."
Once inside the house, Rick enters the family room. He is shocked and horrified at what he sees. The family is shown in only one panel, in the bottom panel (panel 7) on page 4. This panel tells a fairly complete story which serves to further illustrate the terrible events which took place while Rick was unconscious in a hospital. Rick sees the nicely dressed family of four. All of their faces clearly show they have changed into zombies. The mother and two children lie on the floor, each with a gunshot in their forehead. The younger child holds a teddy bear in one hand. The father sits in a easy chair, a handgun still in his hand, his head back after having shot himself in the head.
Each member of the family holds a Bible. A large Christian cross hangs prominently on the wall next to where the father sits. Flies fly around and land on the bodies.
Rick runs from the scene and throws up.
Number of group members listed below: 2
Character
(Click links for info about character
and his/her religious practice, affiliation, etc.)
Religious
Affiliation
Team(s)


[Notes]

Pub.
#
app.

[devout; committed suicide when zombie outbreak began]

2

| | |
| --- | --- |
| | N.A. |

horse
[ridden by Rick Grimes into Atlanta]
1
Excerpts
BELOW: Rick sees a deeply religious family (with Bibles) who committed suicide rather than be reanimated as mindless zombies.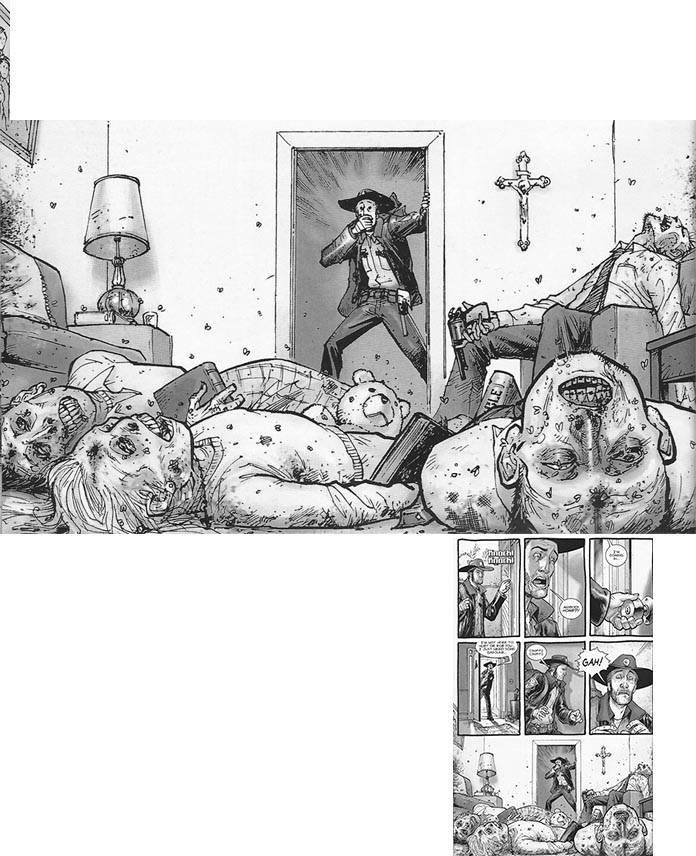 Source: The Walking Dead #2 (Oct. 2003): "Days Gone Bye, Part 2", pg. 4, panel 7. Written by Robert Kirkman. Art by Tony Moore. See also: cross; suicide; Bible; family; Rick Grimes; unnamed Georgia family
This character is in the following story which has been indexed by this website:

The Walking Dead #2 (Oct. 2003): "Days Gone Bye, Part 2"
(1-panel cameo)