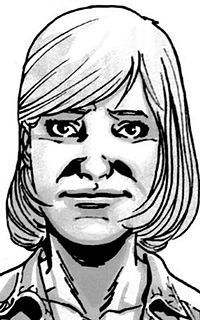 The Religious Affiliation of


Carol Peletier


Religion: Christian (denomination unknown; devout)

Name: Carol Peletier
Other Names: Carol
Classification:

supporting character
Publisher(s):

First Appearance: The Walking Dead #3 (Dec. 2003): "Days Gone Bye, Part 3"
Creators: Robert Kirkman, Tony Moore, Melissa Suzanne McBride (actress)
Number of Appearances: 68
Comic Book Appearances: 28
TV, Film Appearances: 40
Teams/Affiliations: Rick's zombie apocalypse survivor group
Enemy of: zombies
Ally: Rick Grimes
Family/Relatives: Sophia Peletier (daughter), Ed Peletier (husband)
Occupation: salesperson
Race: white
Gender: female
Note: Sophia's mother
Before the zombie apocalypse, Carol supplemented her family's income by selling Tupperware.
Excerpts
BELOW: Jim wants to be be with his family again, even if it as a zombie: Jim has been bitten by zombies and can feel the sickness coming on which he knows will kill him and turn him into a zombie. He is distraught after having seen his entire family killed by zombies approximately months ago. After explaining to Carol what he wants done, Carol protests, saying that to leave him to die would be "murder."
Carol: No... We can't do that do you. You could start getting better. This would be murder.

Jim: Donna... You don't understand I can feel it coming. This-- You gotta do this. I-- *COUGH! COUGH! Please... They have to do this for me. T-talk them into it. It's the only way I'll ever be with my family again...
Source: The Walking Dead #6 (Mar. 2004): "Days Gone Bye, Part 6", pg. 9, panels 1-2. Written by Robert Kirkman. Art by Tony Moore. See also: murder; suicide; family; Jim; Carol Peletier
BELOW: Carol's husband gave up on life and apparently committed suicide after the zombie apocalypse began: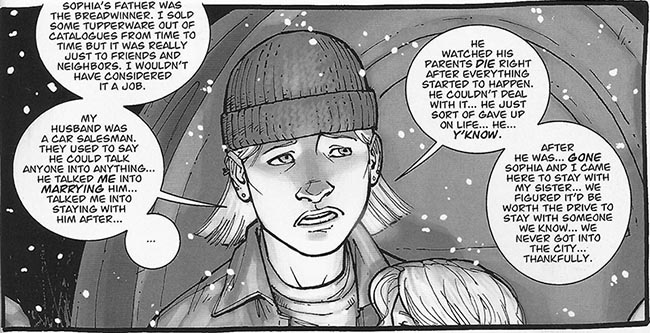 Carol: Sophia's father was the breadwinner. I sold some Tupperware out of catalogues from time to time but it was really just to friends and neighbors. I wouldn't have considered it a job. My husband was a car salesman. They used to say he could talk anyone into anything... He talked me into marrying him... Talked me into staying with him after... ... He watched his parents die right after everything started to happen. He couldn't deal with it... He just sort of gave up on life... He... y'know. After he was... gone Sophia and I came here to stay with my sister... We figured it'd be worth the drive to stay with someone we know...
Source: The Walking Dead #5 (Feb. 2004): "Days Gone Bye, Part 5", pg. 13, panel 1. Written by Robert Kirkman. Art by Tony Moore. See also: suicide; Carol Peletier; Ed Peletier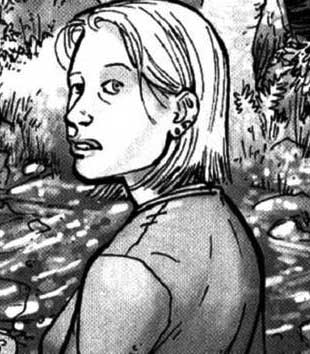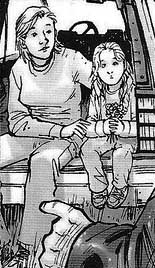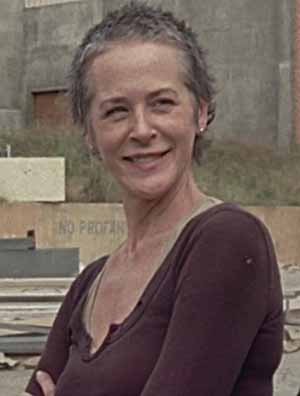 This character is in the following 10 stories which have been indexed by this website:

The Walking Dead

Suggested links for further research about this character and the character's religious affiliation:
- http://www.comicvine.com/carol/4005-46268/
- http://walkingdead.wikia.com/wiki/Carol_Peletier_(TV_Series)
- http://www.imdb.com/character/ch0234504/
- http://comicbookdb.com/character.php?ID=16272
- https://www.comics.org/issue/260206/