Otis


Religion: not determined yet

Name: Otis

Classification:

supporting character
Publisher(s):

First Appearance: The Walking Dead #9 (June 2004): "Miles Behind Us, Part 3"
Creators: Robert Kirkman, Charlie Adlard
Number of Appearances: 16
Comic Book Appearances: 14
TV, Film Appearances: 2
Enemy of: zombies
Romantic Interest: Patricia
Ally: Hershel Greene
Family/Relative: Patricia (wife)
Worked for: Hershel Greene
Location: Greene farm, Georgia, USA
Race: white
Gender: male
Note: shot young Carl Grimes (thought he was a zombie)
Excerpts
BELOW: Otis feels terrible about shooting Carl; he points how that he is non-violent and doesn't believe in killing: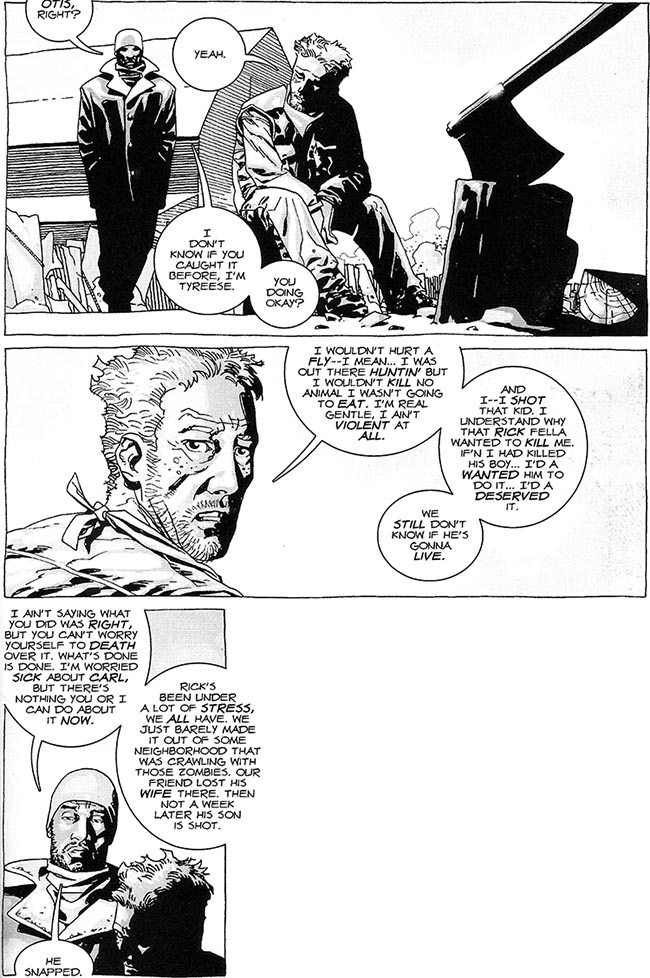 Tyreese: Otis, right?

Otis: Yeah.

Tyreese: I don't know if you caught it before. I'm Tyreese. You doing okay?

Otis: I wouldn't hurt a fly--I mean... I was out there huntin' but I wouldn't kill no animal I wasn't going to eat. I'm real gentle, I ain't violent at all. And I-- I shot that kid. I understand why that Rick fella wanted to kill me. If'n I had killed his boy... I'd a wanted him to do it... I'd a deserved it. We still don't know if he's gonna live.

Tyreese: I ain't saying what you did was right, but you can't worry yourself to death over it. What's done is done. I'm worried sick about Carl, but there's nothing you or I can do about it now.
Source: The Walking Dead #10 (July 2004): "Miles Behind Us, Part 4", pg. 11, panels 1-3. Written by Robert Kirkman. Art by Charlie Adlard. See also: sanctity of life; Tyreese; Otis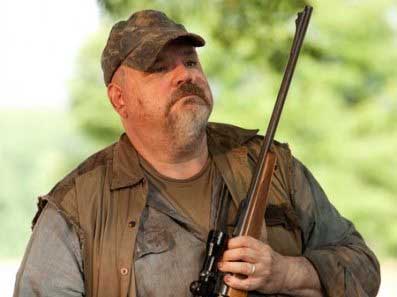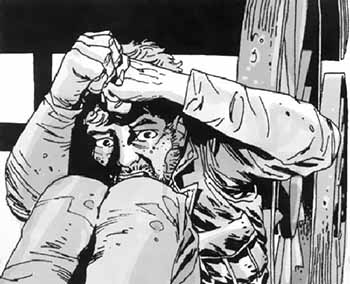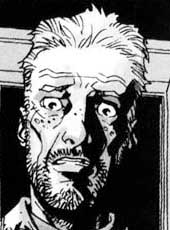 This character is in the following 4 stories which have been indexed by this website:

The Walking Dead

Suggested links for further research about this character:
- http://walkingdead.wikia.com/wiki/Otis_(TV_Series)
- http://walkingdead.wikia.com/wiki/Otis_(Comic_Series)
- http://www.comicvine.com/otis/4005-58915/
- http://comicbookdb.com/character.php?ID=38829
- http://www.imdb.com/character/ch0268709/
- http://www.imdb.com/character/ch0268709/bio