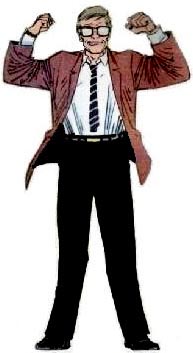 The Religious Affiliation of


Ben Urich


Religion: Jewish

Name: Ben Urich
Classification:

supporting character
Publisher(s):

First Appearance: Daredevil (vol. 1) #153 (July 1978): "Betrayal!"
Creators: Roger McKenzie, Gene Colan, Tony DeZuniga
Number of Appearances: 19
Employer: Front Line
Allies: Spider-Man, Daredevil
Occupation: reporter
Worked for: The Daily Bugle
Race: white
Gender: male
A scene in Marvel Knights 4 #22 makes it clear that Ben Urich is Jewish, something that has been hinted it in many other places. Ben Urich and Jessica Jones are visiting an elderly Jewish woman named Mrs. Loew. Urich and Mrs. Loew speak of a "golem," which leaves Jones a little confused. She refers to herself as the only non-Jewish person in the room when she asks them to fill her in, saying: "Urich, Mrs. Lowe, for the goy-girl in the room..."
Urich demonstrates his knowledge of Jewish lore he learned while growing up in the Jewish neighborhood of the Lower East Side of Manhattan when he tells Jessica: According to the legend... the golem is a giant made of clay, animated by Jewish elders to protect the weak and the helpless. In other words... we're talking about a benevolent creature here."
Also, on pages 1 and 2 of this issue, Ben Urich recounts, from first-hand experience, the history of the Lower East Side of Manhattan. He mentions some specific Jewish-owned businesses that specialize in Jewish/kosher food: "Then, in the 1890s, when most of the neighborhood's tenements were built, it was Eastern European Jews. Setting up shops and raising their kids on streets like Delancy, Orchard, and Broome... There are, at least, vestiges from the old days. Hanging on the way a drowning man hangs on to a life preserver. Katz's Delicatessen at East Houston and Ludlow. Ratner's, the kosher dairy place on Delancey, near Suffolk. And the hole-in-the-wall coffee shop where I am now -- Minnie's."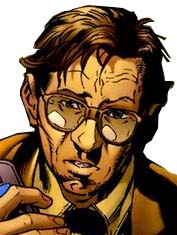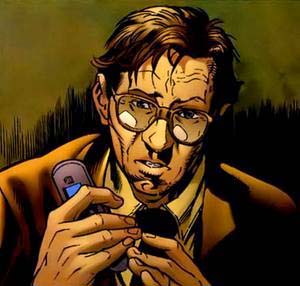 This character is in the following 92 stories which have been indexed by this website:

The Amazing Spider-Man

Assassins #1 (Apr. 1996): "Political Suicide"
(character based on)

Civil War: Front Line #7 (Nov. 2006): "Embedded: Part Seven"

Daily Bugle (vol. 1) #1 (Dec. 1996): "Front Page"

Daredevil

Daredevil/Spider-Man #1 (Jan. 2001): "Unusual Suspects, Part One"

The Daredevils #1 (Jan. 1983): "Marked for Murder!"

The Deadly Foes of Spider-Man #2 (June 1991): "Book II: The Price of Justice"

The Incredible Hulk (vol. 2) #600 (Sep. 2009): "Seeing Red"

Marvel Holiday Special 2004 #1 (Jan. 2005): "Jonah's Holiday Carol"

Marvel Knights 4

The New Avengers (vol. 1) #58 (Dec. 2009)
(mentioned)

The Pulse

Siege: Embedded

The Spectacular Spider-Man

Spider-Man Family (vol. 2) #2 (June 2007): "Undone"

Spider-Man: Fear Itself (Feb. 1992)

Untold Tales of Spider-Man #23 (Aug. 1997): "The Crime-Master"

Web of Spider-Man (vol. 1) #27 (June 1987): "Scared to Succeed!"

Suggested links for further research about this character and the character's religious affiliation:
- http://www.comicboards.com/marvelguide/u.htm
- http://www.marvunapp.com/master/uruz.htm