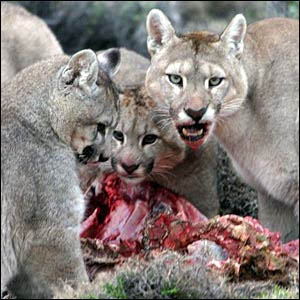 The Religious Affiliation of


cougars


Religion: N.A.

Name: cougars
Other Names: cougar; Puma concolor; P. concolor; mountain lions; puma; panther; mountain cat; catamount; Felis concolor
Classification:

supporting characters

villains

group

real/historical group
Number of Appearances: 6
Comic Book Appearances: 3
TV, Film Appearances: 3
Type of Organization/Group: animal species
Location: Central America; South America
Number of group members listed below: 3
Character
(Click links for info about character
and his/her religious practice, affiliation, etc.)
Religious
Affiliation
Team(s)


[Notes]

Pub.
#
app.
6
cougar
9
cougar
[attacked, seriously injured Diablo (bear)]
1
This character is in the following story which has been indexed by this website:

New Comics #3 (Feb. 1936): "It's a Dern Lie"

Suggested links for further research about this character and the character's religious affiliation:
- http://en.wikipedia.org/wiki/Cougar