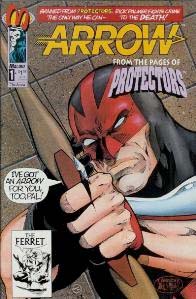 The Arrow


Rick Parker

Religion: not determined yet

Name: The Arrow

Alter Ego: Rick Parker

Other Names: Ralph Parker

Classification:

hero
Publisher(s):

First Appearance: Protectors #1 (Sep. 1992): "When Heroes Gather"
Creators: Paul Gustavson
Super? (Has Super Powers/Special Abilities/Technology): Yes
Number of Appearances: 21
Teams/Affiliations: Protectors
Gender: male
Currently we have separated records for the original Arrow (Ralph Payne) and the Malibu revival of the character (Rick Parker or Ralph Parker). The characters are very similar, with the latter intentionally based on the public domain original. But they have different surnames and are separated in time. For now, these two versions of "The Arrow" are treated as separate characters in this database, although we have seen other databases combine them into a single record.

This character is in the following story which has been indexed by this website:

Protectors #1 (Sep. 1992): "When Heroes Gather"

Suggested links for further research about this character:
- http://en.wikipedia.org/wiki/Arrow_(comics)
- http://www.comicvine.com/arrow/29-54915/
- http://comicbookdb.com/character.php?ID=13781
- http://comicbookdb.com/issue.php?ID=21923
- https://www.comics.org/issue/51760
- https://www.comics.org/issue/245965/
- https://www.comics.org/issue/52036
- https://www.comics.org/issue/52169/
- https://www.comics.org/issue/53787/