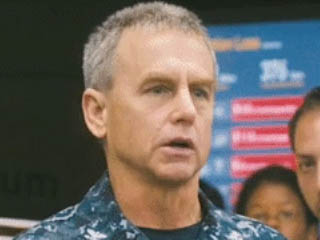 Captain Mullenaro


Religion: not determined yet

Name: Captain Mullenaro

Other Names: Naval Commander; U.S. Navy Captain Mullenaro

Classification:

supporting character
First Appearance: World War Z (2013)
Creators: Max Brooks, J. Michael Straczynski, Matthew Michael Carnahan, Drew Goddard, Damon Lindelof, Marc Forster, David Andrews (actor)
Number of Appearances: 1
Teams/Affiliations: U.S. Navy
Occupation: military officer
Birth Place: USA
Race: white
Gender: male
Note: pressured Gerry Lane to help investigate zombie outbreak
U.S. Navy Captain Mullenaro found himself one of the leaders of humanity's fight against a terrible worldwide zombie outbreak. It was Captain Mullenaro who asked that Gery Lane accompany Dr. Andrew Fassbach to South Korea to try to find the source of the zombie virus. Lane had retired as an investigator for the United Nations, and he did not want to resume his dangerous line of work now that he had a wife and two daughters. But Captain Mullenaro made it clear to Lane that his family would be removed from the safety of the battleship they were now residing in if Lane did not accept the assignment.
This character is in the following story which has been indexed by this website:

World War Z (2013)

Suggested links for further research about this character:
- http://en.wikipedia.org/wiki/World_War_Z_(film)
- http://www.imdb.com/title/tt0816711/fullcredits