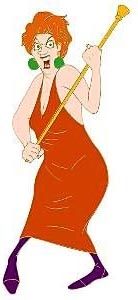 The Religious Affiliation of


Madame Medusa


Religion: manifestly non-religious

Name: Madame Medusa
Other Names: The Diamond Duchess; Medusa; Auntie Medusa
Classification:

villain

based on a real person
Publisher(s): Little, Brown and Company
First Appearance: Miss Bianca (30 Jan. 1962) - vol. 2 in The Rescuers series
Creators: Margery Sharp, Garth Williams, Geraldine Page (actress)
Number of Appearances: 4
TV, Film Appearances: 3
Prose/Text Book/Story Appearances: 1
Enemy of: Bernard, Miss Bianca, Penny
Employer: pawn shop
Ally: Mr. Snoops
Occupation: pawnbroker
Location: Devil's Bayou, Louisiana, USA
Race: white
Gender: female
Madame Medusa is a pawn shop owner who kidnaps a little girl to use in helping her find the world's largest diamond, the Devil's Eye.
Madame Medusa's appearance was based on animator Milt Kahl's ex-wife.
The Rescuers feature film was based on Margery Sharp's original children's novels The Rescuers and Miss Bianca. The plot came (loosely) from Miss Bianca. The character of Madame Medusa is the film version of the book's villain, "The Diamond Duchess," although some commentators have noted that there are few similarities between the two characters aside from their part in the story's plot and their tendency to drive recklessly.
This character is in the following 2 stories which have been indexed by this website:

Miss Bianca (30 Jan. 1962) - vol. 2 in The Rescuers series

The Rescuers (1977)

Suggested links for further research about this character and the character's religious affiliation:
- http://disney.wikia.com/wiki/Madame_Medusa
- http://en.wikipedia.org/wiki/The_Rescuers
- http://www.imdb.com/character/ch0049958/
- http://www.imdb.com/title/tt0076618/