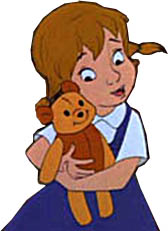 The Religious Affiliation of


Penny


Religion: religious

Name: Penny
Other Names: Patience
Classification:

supporting character
Publisher(s): Little, Brown and Company
First Appearance: Miss Bianca (30 Jan. 1962) - vol. 2 in The Rescuers series
Creators: Margery Sharp, Garth Williams, Michelle Stacy (actress)
Number of Appearances: 2
TV, Film Appearances: 1
Prose/Text Book/Story Appearances: 1
Enemy of: Madame Medusa, Mr. Snoops
Defended or Helped by: Bernard, Miss Bianca
Occupation: student
Race: white
Gender: female
Note: kidnapped orphan; forced to look for huge diamond
Penny is a relatively religious character. In The Rescuers, she is seen sincerely praying for help to escape her plight after she is kidnapped by Madame Medusa. Miraculously, Penny is rescued by two brave mice from the Rescue Aid Society.
In the children's novel Miss Bianca, which inspired the story in the feature film The Rescuers, the little girl captured and force to look for a massive diamond is named "Patience." Some commentators regard Patience and Penny as distinct characters, but we feel the characters and plots are sufficiently similar to classify them as the same character.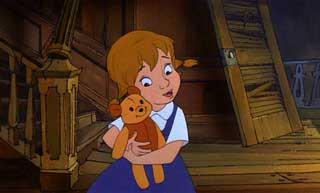 This character is in the following 2 stories which have been indexed by this website:

Miss Bianca (30 Jan. 1962) - vol. 2 in The Rescuers series

The Rescuers (1977)

Suggested links for further research about this character and the character's religious affiliation:
- http://disney.wikia.com/wiki/Penny_(The_Rescuers)
- http://www.imdb.com/character/ch0018334/
- http://en.wikipedia.org/wiki/The_Rescuers
- http://www.imdb.com/title/tt0076618/