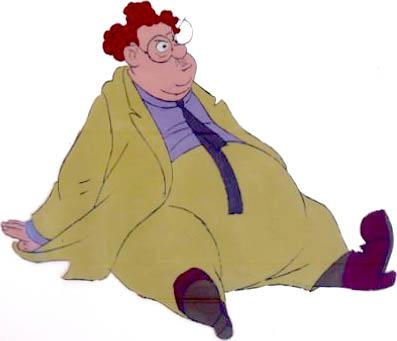 The Religious Affiliation of


Mr. Snoops


Religion: repentant

Name: Mr. Snoops
Other Names: Mandrake
Classification:

villain

based on a real person
Publisher(s): Little, Brown and Company
First Appearance: Miss Bianca (30 Jan. 1962) - vol. 2 in The Rescuers series
Creators: Margery Sharp, Garth Williams, Joe Flynn (actor)
Number of Appearances: 4
TV, Film Appearances: 3
Prose/Text Book/Story Appearances: 1
Enemy of: Bernard, Miss Bianca
Occupation: henchman
Worked for: Madame Medusa
Location: Devil's Bayou, Louisiana, USA
Race: white
Gender: male
Mr. Snoops is the feature film version of Mandrake, a character of the original children's book Miss Bianca which served (somewhat loosely) as the basis for the 1977 film The Rescuers.
Visually, Mr. Snoops is based on animation historian John Culhane.
Mr. Snoops is the principle henchman of the primary villain in The Rescuers: Madame Medusa. In the end, he repents and ends up turning on his boss and helping Penny, the little girl Medusa kidnapped.
This character is in the following 2 stories which have been indexed by this website:

Miss Bianca (30 Jan. 1962) - vol. 2 in The Rescuers series

The Rescuers (1977)

Suggested links for further research about this character and the character's religious affiliation:
- http://disney.wikia.com/wiki/Mr._Snoops
- http://disneyvillains.wikia.com/wiki/Mr._Snoops
- http://www.imdb.com/character/ch0018331/
- http://en.wikipedia.org/wiki/The_Rescuers
- http://www.imdb.com/title/tt0076618/