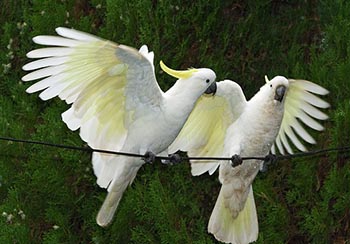 The Religious Affiliation of


cockatoos


Religion: N.A.

Name: cockatoos
Other Names: cockatoo; Cacatuidae; Cacatuoidea; Kakatuwah; cacato; cockatoon; crockadore; cokato; cocatore; cocatoo
Classification:

supporting characters

group

real/historical group
Publisher(s): Richard and John E. Taylor
Earliest Appearance Listed in This Database: A List of the Genera of Birds, with an Indication of the Typical Species of Each Genus (1840)
Creators: George Robert Gray
Number of Appearances: 3
Comic Book Appearances: 1
TV, Film Appearances: 1
Prose/Text Book/Story Appearances: 1
Type of Organization/Group: animal species
Location: Asia
Nation: Australia
Species: bird
The cockatoos were first defined as a subfamily Cacatuinae within the parrot family Psittacidae by the English naturalist George Robert Gray in 1840, with Cacatua the first listed and type genus. This initial description appeared on page 53 in G. R. Gray's List of the Genera of Birds (1840) (also known as Gray's A List of the Genera of Birds, with an indication of the typical species of each genus).
Number of group members listed below: 2
This character is in the following story which has been indexed by this website:

A List of the Genera of Birds, with an Indication of the Typical Species of Each Genus (1840)

Suggested links for further research about this character and the character's religious affiliation:
- http://en.wikipedia.org/wiki/Cockatoo
- http://www.biodiversitylibrary.org/page/13668970#page/67/mode/1up