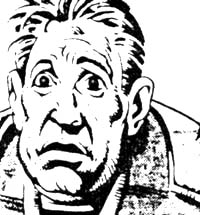 Aaron A. Aardvark


Eric Plunket

Religion: not determined yet

Name: Aaron A. Aardvark

Alter Ego: Eric Plunket

Classification:

supporting character
Publisher(s):

First Appearance: 2000 AD #95 (13 Jan. 1979): "Judge Dredd: The Day the Law Died! (Pt 7)"
Creators: John Wagner (as John Howard), Brian Bolland, Garry Leach
Number of Appearances: 1
Nation: Mega-City One
Race: white
Gender: male
Note: announced by Judge Cal as first to be executed
When the insane Judge Cal announced that he was going to execute everybody in Mega-City, he declared: "The executions will begin tomorrow in Sector 1, starting with Mr. Aaron A. Aardvark and finishing with Mr. Zachary Zziiz. Then on to Sector 2 and so on. Now, I want things carried out in an orderly manner. Report to your execution stations in good time. No barging... in the queues. And bring a book in case there is a delay."
Aaron A. Aardvark's birth name was actually Eric Plunket. He changed his name so that he could be listed first in the phone book.
Judge Dredd eventually defeated Chief Judge Cal, but not before the executions began. Dredd's defeat of Cal happened too late for Aaron, who was indeed the first executed under this order.
This character is in the following story which has been indexed by this website:

2000 AD #95 (13 Jan. 1979): "Judge Dredd: The Day the Law Died! (Pt 7)"
(mentioned)

Suggested links for further research about this character:
- http://britishcomics.wikia.com/wiki/Aaron_A._Aardvark
- http://www.comicvine.com/the-day-the-law-died/4045-56414/
- http://en.wikipedia.org/wiki/Judge_Cal