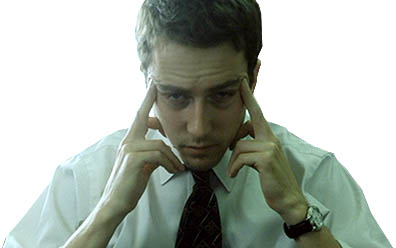 The Religious Affiliation of


unnamed narrator


Religion: religious

Name: unnamed narrator
Other Names: The Narrator; unnamed protagonist; unnamed everyman; Jack; Joe
Classification:

non-feature lead character
Publisher(s):

First Appearance: Fight Club (1996)
Creators: Chuck Palahniuk, Edward Norton (actor)
Number of Appearances: 2
TV, Film Appearances: 1
Prose/Text Book/Story Appearances: 1
Ally: Tyler Durden
Occupation: insurance adjuster
Worked for: unnamed car company
Birth Place: USA
Race: white
Gender: male
The unnamed narrator of the novel Fight Club is not traditionally "religious" in the sense that he attempts to adhere to the ethical teachings of an established church or religion. But he thinks about religious topics often and he clearly has many religious beliefs.
Among the more explicit religious discussions in the novel is the following on page 141:
The mechanic says, "If you're male and you're Christian and living in America, your father is your model for God. And if you never know your father, if your father bails out or dies or is never at home, what do you believe about God?...

How Tyler saw it was that getting God's attention for being bad was better than getting no attention at all. Maybe because God's hate is better than His indifference.

If you could be either God's worst enemy or nothing, which would you choose?

We are God's middle children, according to Tyler Durden, with no special place in history and no special attention.

Unless we get God's attention, we have no hope of damnation or redemption.

Which is worse, hell or nothing?

Only if we're caught and punished can we be saved.

"Burn the Louvre," the mechanic says, "and wipe your a** with the Mona Lisa. This way at least, God would know our names."
Toward the end of the novel Fight Club, the unnamed narrator (who is played by Edward Norton in the feature film adaptation), attempts to kill himself by putting a gun in his mouth and shooting himself. He wakes up later in a mental hospital, but he believes he is in Heaven. He imagines having an argument with God about human nature.
In describing his adaptation of the film, director David Fincher explained that the narrator is an "everyman" who finds he cannot find happiness by doing what he is supposed to do, so he seeks enlightenment by embarking on a journey to kill his parents, his god and his teacher. He does indeed murder his parents and the "kills his god" by doing things he is not supposed to do.
The Narrator is identified in the screenplay/script as "Jack." But, emphasizing the "everyman" aspect of the character, no name for the character is ever identified in the book or film.
Some readers call the narrator protagonist "Joe", because of his constant use of the name in such statements as, "I am Joe's boiling point".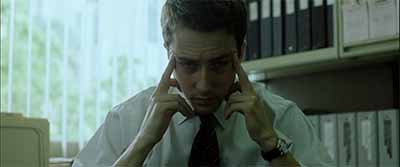 Suggested links for further research about this character and the character's religious affiliation:
- http://en.wikipedia.org/wiki/Fight_Club_(novel)
- http://en.wikipedia.org/wiki/Fight_Club
- http://www.imdb.com/title/tt0137523/