Jake Sanders


Religion: not determined yet

Name: Jake Sanders

Classification:

supporting character
Publisher(s):

First Appearance: Hostages - Season 1, Episode 1 (23 Sep. 2013): "Pilot"
Creators: Omri Givon, Alon Aranya, Jeffrey Nachmanoff, Mateus Ward (actor)
Number of Appearances: 3
Enemy of: Duncan Carlisle
Family/Relatives: Dr. Ellen Sanders (mother), Brian Sanders (father), Morgan Sanders (sister)
Occupation: drug dealer, high school student
Studied at: Whelan High School
Location: Washington, D.C., USA
Race: white
Gender: male
Note: hostage son of surgeon pressured to kill President
In the first episode of the TV series Hostages, Jake Sanders and his family are taken hostage by rogue FBI agent Duncan Carlisle and his crew. Carlisle tells Jake's mother (surgeon Ellen Sanders) that she must kill the U.S. President when she performs his upcoming surgery, or Ellen's family (including Jake) will be killed.
Jake Sanders has a secret that nobody knows. He is a low-level drug dealer in his school. In the first episode, his father (who is also his sports team coach) finds a box in the locker room - a box with a large sum of cash in it. He asks who the box belongs to. Jake and his teammate and fellow drug dealer come forward, claiming it is theirs. They lie to Jake's father, telling him that the money was a collection they took up to buy beer for a party. The father confiscates the money. Unfortunately for Jake, this was money he owed to his illegal drug supplier. The supplier wants the money, and threatens violence if he doesn't get it.
Duncan Carlisle and his crew have been spying on the Sanders family quite thoroughly, including tapping into their cell phones and other electronic devices. Jake asks them to not tell his parents about his drug dealing. They agree to keep his secret, but this gives them extra leverage against Jake to pressure him to cooperate with their kidnapping plan.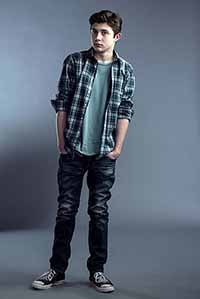 Suggested links for further research about this character:
- http://www.imdb.com/character/ch0385321/
- http://en.wikipedia.org/wiki/Hostages_(TV_series)
- http://www.imdb.com/title/tt2647258/