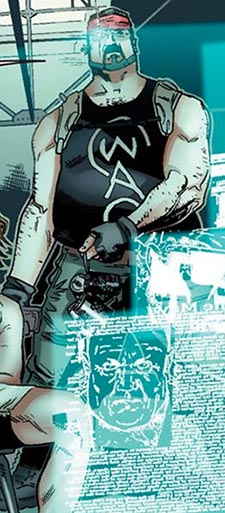 Fence


Fenton Selleck

Religion: not determined yet

Name: Fence

Alter Ego: Fenton Selleck

Other Names: Agent Selleck; Fenton

Classification:

supporting character
Publisher(s):

First Appearance: Gambit (vol. 5) #2 (Oct. 2012): "Can't Shake You Loose"
Creators: James Asmus, Clay Mann, Seth Mann
Super? (Has Super Powers/Special Abilities/Technology): Yes
Number of Appearances: 12
Ally: Gambit
Occupation: baker, computer hacker, federal agent, fence, thief
Location: Brooklyn, New York City, New York, USA
Race: white
Gender: male
Fence is a broker of stolen goods, particularly rare, exotic, high-end equipment and weaponry. He operates out of a Brooklyn cupcake shop called "Sugar Muffins."
When he first appeared, as a friend and ally of Gambit, Fence was known only as Fence. His real name (Fenton Selleck) was eventually identified in Gambit (vol. 5) #15. (Sep. 2013).