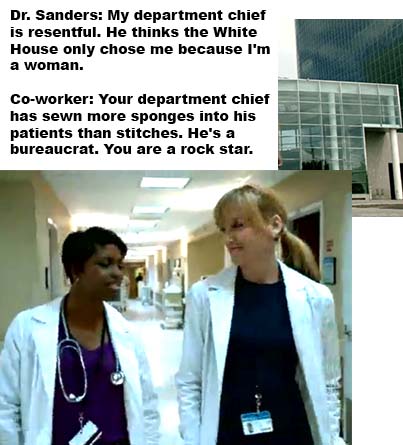 unnamed department chief


Religion: not determined yet

Name: unnamed department chief

Classification:

supporting character
Publisher(s):

First Appearance: Hostages - Season 1, Episode 1 (23 Sep. 2013): "Pilot"
Creators: Omri Givon, Alon Aranya, Jeffrey Nachmanoff
Number of Appearances: 1
Worked for: Maryland College Hospital
Location: Washington, D.C., USA
Gender: male
Note: Dr. Ellen Sanders' bureaucratic boss at hospital
In one of the opening scenes of the first episode of the TV series "Hostages," series lead character Dr. Ellen Sanders is seen walking to her office while speaking with a fellow doctor (a black woman). Dr. Sanders tells her co-worker: "My department chief is resentful. He thinks the White House only chose me because I'm a woman."
Dr. Sanders' friend humorously dismisses Dr. Sanders' department chief's qualifications for saying much of anything, joking: "Your department chief has sewn more sponges into his patients than stitches. He's a bureaucrat. You are a rock star."
This character is in the following story which has been indexed by this website:

Hostages - Season 1, Episode 1 (23 Sep. 2013): "Pilot"
(mentioned)