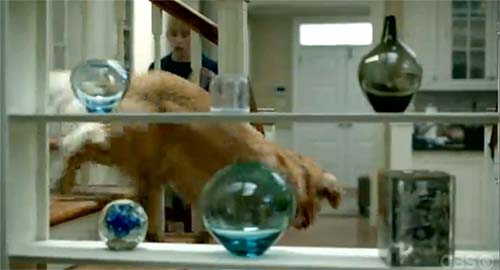 The Religious Affiliation of


Barkley


Religion: N.A.

Name: Barkley
Classification:

supporting character
Publisher(s):

First Appearance: Hostages - Season 1, Episode 1 (23 Sep. 2013): "Pilot"
Creators: Omri Givon, Alon Aranya, Jeffrey Nachmanoff
Number of Appearances: 3
Enemy of: Duncan Carlisle
Owners: Dr. Ellen Sanders, Brian Sanders, Morgan Sanders, Jake Sanders
Occupation: pet
Location: Washington, D.C., USA
Species: dog
Gender: male
Note: dog of family held hostage in President assassination plot
The Sanders' family dog is first scene in the first episode of "Hostages" when Dr. Ellen Sanders comes home early from work. She sees the dog (a cocker spaniel?) come down the stairs. She refers to simply as "boy" ("C'mere, boy").
Later, at approximately 12 minutes after the beginning of the episode, Ellen's son Jake and husband come home from lacrosse practice. Jake calls for the dog: "Barkley! Barkley!"