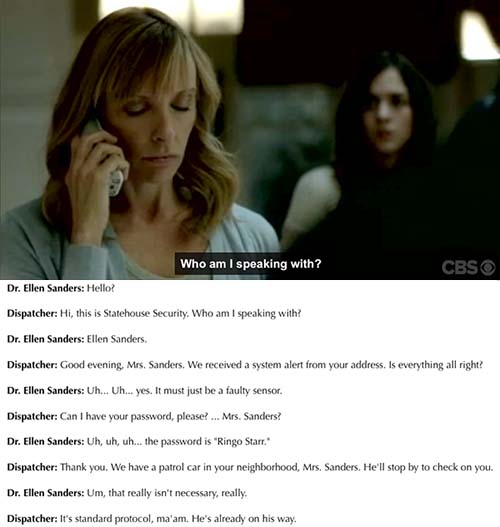 unnamed dispatcher


Religion: not determined yet

Name: unnamed dispatcher

Classification:

supporting character
Publisher(s):

First Appearance: Hostages - Season 1, Episode 1 (23 Sep. 2013): "Pilot"
Creators: Omri Givon, Alon Aranya, Jeffrey Nachmanoff
Number of Appearances: 1
Occupation: dispatcher
Worked for: Statehouse Security
Location: Washington, D.C., USA
Gender: female
Note: called Dr. Sanders' home to say silent alarm was triggered
Statehouse Security is a company based in Washington, D.C. that provides home security monitoring.
In the first episode of the TV series "Hostages," Dr. Ellen Sanders and her family are taken hostage by a crew led by rogue FBI agent Duncan Carlisle. Carlisle threatens the life of Dr. Sanders' family in order to pressure her to kill the President of the United States during an upcoming surgical operation, which is scheduled for the next day.
Dr. Sanders desperately wants to avoid doing anything to harm the President. She trips a silent alarm, an alarm installed and monitored by Statehouse Security. This prompts the security company to call the home. Dr. Sanders answers. A dispatcher tells that an alarm in her home went off, and asks if everything is okay. With guns pointed at her family, Dr. Sanders tells the dispatcher that everything is fine, that it must have been a faulty sensor.
The dispatcher says that is good, but that there is a patrol car from their company in the neighborhood and somebody will be stopping by in a few minutes. Dr. Sanders can do nothing to talk the dispatcher out of sending somebody. The dispatcher explains that this is standard protocol and the car is already on its way.
Soon there is a knock at the door. A man wearing a "Statehouse Security" uniform (recognizable by the patch on the work shirt) stands in the doorway. Dr. Sanders tries to explain that everything is fine, but the man says nothing. The man hands Dr. Sanders an envelope. Dr. Sanders recognizes the man. It is the same man she saw dressed as a janitor coming out of her office at the hospital earlier that day. Dr. Sanders realizes that this man is an operative working for the hostage-taking crew.
Dr. Ellen Sanders: Hello?

Dispatcher: Hi, this is Statehouse Security. Who am I speaking with?

Dr. Ellen Sanders: Ellen Sanders.

Dispatcher: Good evening, Mrs. Sanders. We received a system alert from your address. Is everything all right?

Dr. Ellen Sanders: Uh... Uh... yes. It must just be a faulty sensor.

Dispatcher: Can I have your password, please? ... Mrs. Sanders?

Dr. Ellen Sanders: Uh, uh, uh... the password is "Ringo Starr."

Dispatcher: Thank you. We have a patrol car in your neighborhood, Mrs. Sanders. He'll stop by to check on you.

Dr. Ellen Sanders: Um, that really isn't necessary, really.

Dispatcher: It's standard protocol, ma'am. He's already on his way.

[click, as the phone hangs up]
This character is in the following story which has been indexed by this website:

Hostages - Season 1, Episode 1 (23 Sep. 2013): "Pilot"
(voice only)