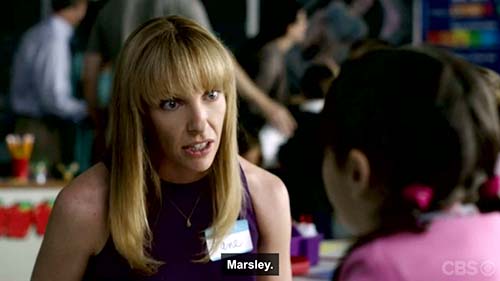 Marsley


Religion: not determined yet

Name: Marsley

Classification:

supporting character
Publisher(s):

First Appearance: Hostages - Season 1, Episode 3 (7 Oct. 2013): "Power of Persuasion"
Creators: Rick Eid, Jeffrey Nachmanoff, Henry Bronchtein
Number of Appearances: 1
Ally: Dr. Ellen Sanders
Gender: female
Note: person with funniest name Dr. Sanders knows
When Dr. Ellen Sanders went to the school of Duncan Carlisle's daughter Sawyer, she wrote a fake name ("Jane") on her visitors' name tag. After Dr. Sanders found Sawyer and had a chance to sit down and talk with her, Sawyer noted the name on the name tag.
Pointing to the name tag, Sawyer said: "Jane is a funny name."
Dr. Ellen Sanders said: "Really? Hmm. When I was growing up it was considered very boring. There were five Janes in my class. It was like having the name Emma today. But you wanna hear the funniest name of anyone I know? Marsley."
Sawyer made a face, saying: "Marsley??"
Dr. Sanders said: "Yes, like parsley, except with an 'M'."
Sawyer said: "That is a funny name."
The point of Dr. Sanders' conversation with Sawyer about such a seemingly trivial matter was to put the young girl at ease so that they could establish a level of trust and comfort. That way, Dr. Sanders could ask Sawyer questions about other, more significant things, things which Dr. Sanders hoped would give her some leverage to escape from the assassination plot that Sawyer's father Duncan had forced Dr. Sanders and her family into.
This character is in the following story which has been indexed by this website:

Hostages - Season 1, Episode 3 (7 Oct. 2013): "Power of Persuasion"
(mentioned)