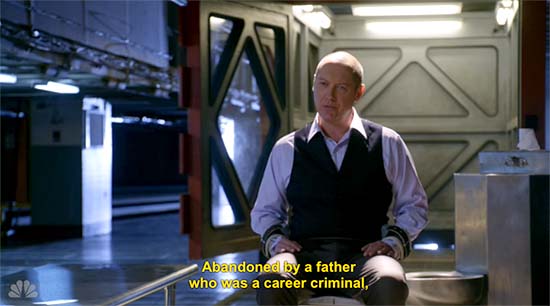 Elizabeth's father


Religion: not determined yet

Name: Elizabeth's father

Classification:

supporting character
Publisher(s):

First Appearance: The Blacklist - Season 1, Episode 1 (23 Sep. 2013): "Pilot"
Creators: Jon Bokenkamp, Brandon Margolis, Brandon Sonnier, Joe Carnahan
Number of Appearances: 1
Family/Relatives: Elizabeth Keen (daughter), Elizabeth's mother (wife)
Occupation: criminal
Location: Baltimore, Maryland, USA
Race: white
Gender: male
Note: Elizabeth Keen's father
Soon after notorious criminal Raymond "Red" Reddington turned himself in to the FBI, he insisted he would speak only to Agent Elizabeth Keen. When she arrived and spoke to him, Reddington shocked Agent Keen by telling her things she thought nobody else knew. He told her: "The two of us have... overcome so much. I mean, look at you. Abandoned by a father who was a career criminal, a mother who died of... weakness and shame... And yet, here you are, about to make a name for yourself... about to capture Ranko Zamani. I'm going to make you famous, Lizzy."
Agent Keen completely maintained her composure while Reddington told her these things. But after she excused herself and was where Reddington could not hear her, she showed anger when she spoke to the agents in charge. She confronted them, saying: "What did you tell him?"
Agent-in-charge Ressler asked: "What are you talking about?"
Agent Keen explained: "How did he know those things? Private things about my family?"
Ressler asked: "Why didn't your father's criminal record show up on your background report?"
This character is in the following story which has been indexed by this website:

The Blacklist - Season 1, Episode 1 (23 Sep. 2013): "Pilot"
(mentioned)

Suggested links for further research about this character:
- http://www.imdb.com/title/tt2920128/