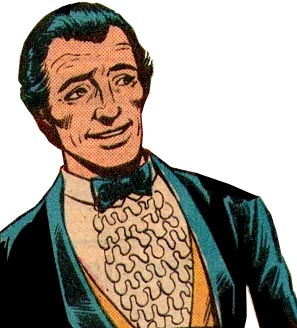 Albert Jarvis


Religion: not determined yet

Name: Albert Jarvis

Other Names: Albert; Jarvis

Classification:

supporting character
Publisher(s):

First Appearance: What If? (vol. 1) #38 (Apr. 1983): "The Leaving"
Creators: Rick Margopoulos, Dan Reed, Mike Esposito
Number of Appearances: 1
Family/Relative: Edwin Jarvis (father)
Occupation: butler
Worked for: The Avengers
Location: New York City, New York, USA
Race: white
Gender: male
Note: took over as Avengers' butler for his uncle
In a possible future timeline, Albert Jarvis is the nephew of the Avengers' long-time butler Edwin Jarvis. Albert takes over for his deceased uncle as the butler to the Avengers.
Albert Jarvis appears to be just as loyal and efficient a servant to the Avengers as his beloved uncle was.
This all takes place in a "What If?" story which poses the question: What if the Scarlet Witch continued to age normally, but her husband (the Vision) did not age? The story tracks into the future, showing non-immortals such as regular mutants and humans (Edwin Jarvis, the Scarlet Witch, etc.) aging while ageless (or slowly-aging) beings such as Thor, Vision, Jocasta continue on.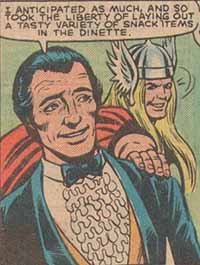 This character is in the following story which has been indexed by this website:

What If? (vol. 1) #38 (Apr. 1983): "The Leaving"

Suggested links for further research about this character:
- http://marvel.wikia.com/Albert_Jarvis_(Earth-83438)
- http://www.marvunapp.com/master/ajalk.htm
- http://marvel.wikia.com/What_If%3F_Vol_1_38