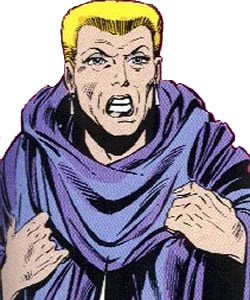 The Religious Affiliation of


Layana Sweetwater


Religion: alien

Name: Layana Sweetwater
Other Names: Emperor Mother; Layanna Sweetwater
Classification:

villain
Publisher(s):

First Appearance: Hercules (vol. 1) #2 (Oct. 1982): "For the Love of Gods"
Creators: Bob Layton, Luke McDonnell
Number of Appearances: 5
Romantic Interests: Hercules, Igwanus
Family/Relative: Arimathes (son)
Occupation: emperor
Planet: Wilamean
Race: white, Wilameanis
Gender: female
Note: had a son with Hercules
In stories set around the year 2385, Layana Sweetwater is a native of the planet Wilamean (whose people appear very much like Earth humnans). She manipulated her way into becoming a member of royalty and eventually became the empress (or emperor) of her people.
At one point, Layana was engaged to be married to Count Igwanus. She tricked Hercules into "rescuing" her during a incident that she herself contrived. Count Igwanus was grateful to Hercules for rescuing the fiance he loved. Count Igwanus married Layana, even though she had been exposed as a manipulator and liar. After they were married, Layana manipulated things so that she was able to enslave Count Igwanus.
When Layana meet the legendary Earth hero Hercules, they had a romantic relationship. Hercules fathered a child with her, a son she named Arimathes. Layana manipulated Arimathes to become the ruler of her planet, but she was the real power behind the throne.
Later, Layana hired a group of alien and Earth human assassins known as the Assassins Guild to kill Hercules, so she could have vengeance on him for when he thwarted her previous plot.
Layana's assassination attempt on Hercules almost resulted in the death of her son, Arimathes. This horrified her, and she vowed she would no longer do such a thing again. Arimathes took firm control of the planet, with the intention of keeping his mother under control.
This character is in the following 6 stories which have been indexed by this website:

Hercules (vol. 1) #2 (Oct. 1982): "For the Love of Gods"

Hercules: Twilight of a God #4 (Nov. 2010): "The End"

Marvel Comics Presents

Marvel Graphic Novel #37 (Aug. 1988): "Hercules, Prince of Power: Full Circle"

Suggested links for further research about this character and the character's religious affiliation:
- http://www.marvunapp.com/Appendix/sweetwater.htm
- http://marvel.wikia.com/Layana_Sweetwater_(Earth-829)
- http://www.marvunapp.com/master/svsx.htm
- http://www.marvunapp.com/master/assasz.htm
- http://www.marvunapp.com/master/ariarz.htm
- http://www.marvunapp.com/master/wiawil.htm
- https://www.comics.org/issue/36753/
- http://marvel.wikia.com/Hercules_Vol_1_2