The Religious Affiliation of


Cowhide


Religion: Christian (medieval)

Name: Cowhide
Other Names: Hamburger
Classification:

supporting character
Publisher(s):

First Appearance: New Comics #1 (Dec. 1935): "Introducing Cowhide"
Creators: Robert Leffingwell
Number of Appearances: 6
Ally: Sir Loin of Beef
Birth Place: England, United Kingdom
Race: white
Gender: male
Note: travelling companion of Sir Loin of Beef
Cowhide was a petty thief who ran into a spot of trouble in a tavern and was helped out by Sir Loin of Beef. Cowhide ended up becoming the permanent traveling companion of Loin of Beef, who was a knight errant. Cowhide was a big, strong man, but he was not a very good fighter. Cowhide was something of a rogue, but he had a witty sense of humor and Sir Loin of Beef enjoyed his company.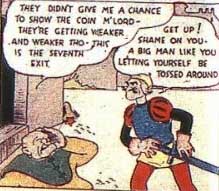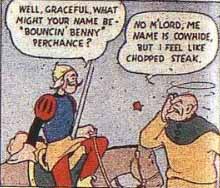 Suggested links for further research about this character and the character's religious affiliation:
- http://www.comicvine.com/cowhide/4005-62981/
- http://adventurecomicsblog.blogspot.com/2011/11/new-comics-1-december-1935.html
- https://www.comics.org/issue/94/
- http://comicbookdb.com/issue.php?ID=5599
- http://dc.wikia.com/wiki/New_Comics_Vol_1_1
- http://www.comicvine.com/new-comics-1/4000-109779/
- http://www.comicvine.com/loin-of-beef/4005-62980/