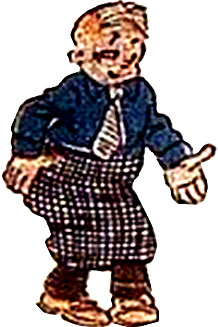 Pudge


Religion: not determined yet

Name: Pudge

Classification:

supporting character
Publisher(s):

First Appearance: New Comics #1 (Dec. 1935): "Soap-Box Racer"
Creators: Whitney Ellsworth
Number of Appearances: 2
Ally: Billy the Kid
Occupation: child
Birth Place: USA
Race: white
Gender: male
Note: friend of mischievous Billy
Sometimes Billy the Kid (no connection to the famous outlaw) played tricks on his friend, Pudge. Like the time that Billy built a soap box racer. Pudge was impressed by Billy's work, and asked if he could ride in it. Billy let him do so, starting at the top of a high hill so he could race down. But Billy forgot to tell Pudge a few crucial details, like the fact that the steering apparatus in his hand-made soap box racer did not work. Comical results ensued, with Pudge crashing and the soap box racer in pieces around him.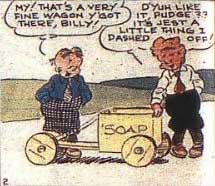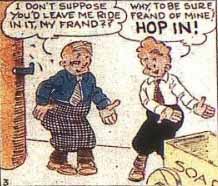 Suggested links for further research about this character:
- http://www.comicvine.com/billy-the-kid/4005-62982/
- http://adventurecomicsblog.blogspot.com/2011/11/new-comics-1-december-1935.html
- https://www.comics.org/issue/94/
- http://comicbookdb.com/issue.php?ID=5599
- http://dc.wikia.com/wiki/New_Comics_Vol_1_1