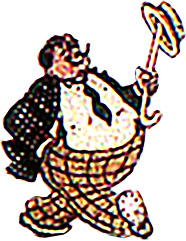 J. Worthington Blimp


Religion: not determined yet

Name: J. Worthington Blimp

Other Names: Blimp

Classification:

lead character
Publisher(s):

First Appearance: New Comics #1 (Dec. 1935): "New York to San Diego: Parts 1 and 2"
Creators: Sheldon Mayer
Number of Appearances: 4
Ally: Jupiter Jones
Location: New York City, New York, USA
Birth Place: USA
Race: white
Gender: male
Note: embarked on bicycle trip from NYC to San Diego
J. Worthington Blimp was the protagonist in a series of humorous comic strips from the earliest days of DC Comics. The character was created by Sheldon Mayer, who would go on to become one of the most significant comic book writer/artists in the "Golden Age" era at DC Comics.
J. Worthington Blimp was inspired by a popular cartoon character of the time: J. Wellington Wimpy, better known simply "Wimpy," Popeye's hamburger-loving friend.
J. Worthington Blimp had a bad habit. He bragged too much. He had done this for a long time, and usually got away with it. But one time, he made a careless bragging remark and it gained unexpected steam.
The incident snowballed until Blimp ended up forced to set off on a comical bicycle trip from New York City to San Diego, California. Along the way, Blimp ate at a restaurant in Pottsville, Pennsylvania. Blimp's careless words led to a misunderstanding and he ended up being sent to jail. In jail he met Jupiter Jones, a chap who was much younger than him, yet more accomplished.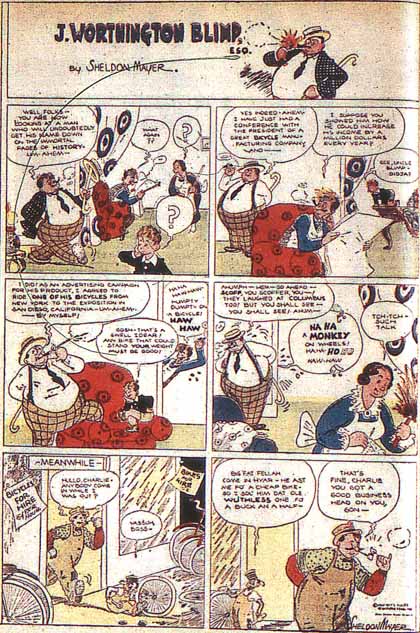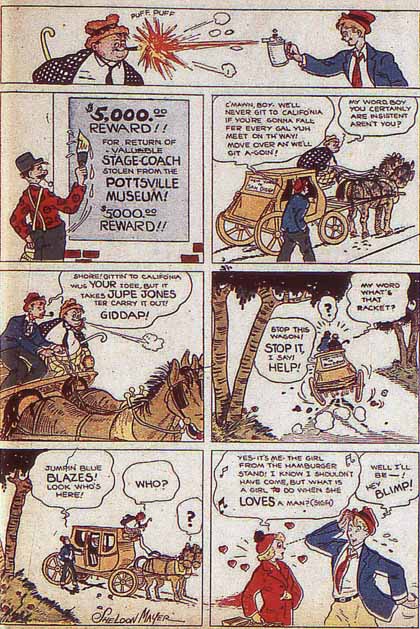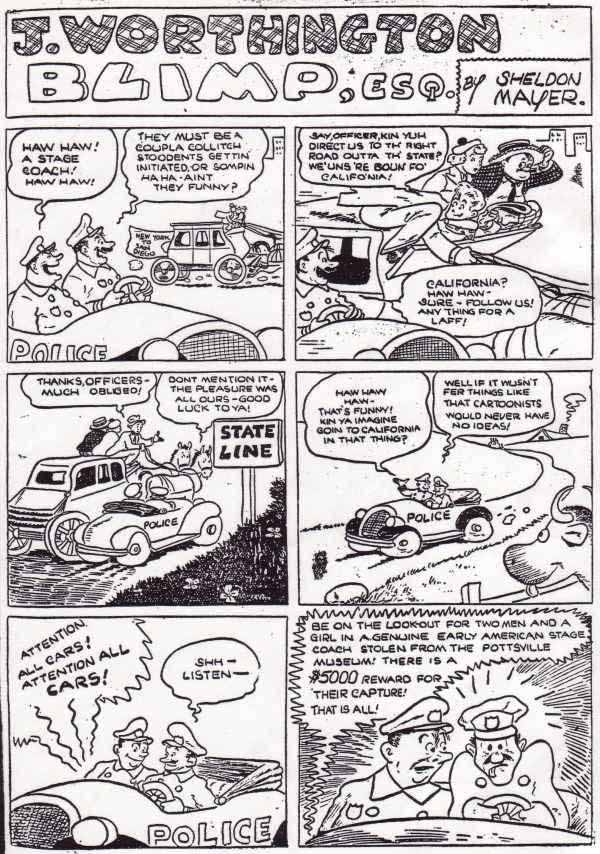 Suggested links for further research about this character:
- http://www.comicvine.com/j-worthington-blimp/4005-62992/
- http://dc.wikia.com/wiki/New_Comics_Vol_1_1
- https://www.comics.org/issue/94/
- http://comicbookdb.com/issue.php?ID=5599
- http://www.comicvine.com/new-comics-1/4000-109779/
- http://unabridgeddc.tumblr.com/post/39313988263/comic-8-new-comics-1-date-december-1935