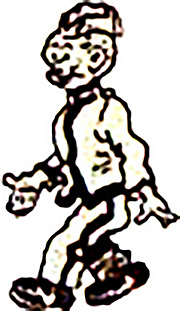 Flea Tinker


Religion: not determined yet

Name: Flea Tinker

Other Names: The Tinker Twins

Classification:

lead character
Publisher(s):

First Appearance: New Comics #1 (Dec. 1935): "Goat Initiation"
Creators: Joe Archibald
Number of Appearances: 1
Family/Relative: Hooty Tinker (brother)
Occupation: high school student
Studied at: Penn Point
Location: Pennsylvania, USA
Birth Place: USA
Race: white
Gender: male
Note: upperclassmen pulled a prank on them at military school
Hooty and Flea Tinker were twins. They began attending Penn Point (a military school) and were determined to excel there. Unfortunately, a number of upperclassmen played a practical joke on the twins. Although what happened wasn't their fault, the twins got into trouble at their new school as a result of the prank.
The Tinker Twins appeared in New Comics #1, the first issue of the series which would become DC Comics' long-running series Adventure Comics. Most of the numerous shot features in this issue were either the beginning of an ongoing feature which appeared in multiple subsequent issues, or they were clearly intended as one-time-only strips. But a few features appeared as if they would be ongoing, repeated strips with recurring characters, but ended up appearing only once. The strip "Tinker Twins At Penn Point" (featuring Hooty and Flea Tinker) fell into this category. "Tinker Twins At Penn Point" was a feature that appeared only once. The Tinker Twins never appeared again.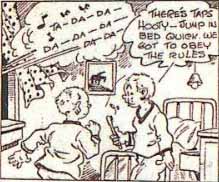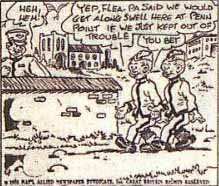 This character is in the following story which has been indexed by this website:

New Comics #1 (Dec. 1935): "Goat Initiation"
(lead character)

Suggested links for further research about this character:
- http://www.comicvine.com/tinker-twins/4005-62993/
- http://dc.wikia.com/wiki/New_Comics_Vol_1_1
- https://www.comics.org/issue/94/
- http://comicbookdb.com/issue.php?ID=5599
- http://www.comicvine.com/new-comics-1/4000-109779/
- http://unabridgeddc.tumblr.com/post/39313988263/comic-8-new-comics-1-date-december-1935