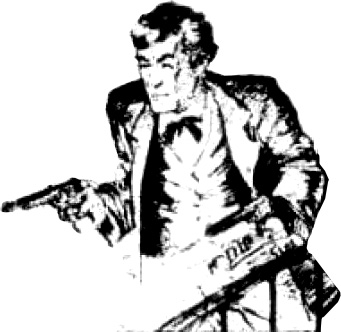 The Religious Affiliation of


Jim Gale


Religion: gambling

Name: Jim Gale
Classification:

lead character
Publisher(s):

First Appearance: New Comics #1 (Dec. 1935): "17-20 in the Black"
Creators: Billy Weston, Tom Cooper
Number of Appearances: 13
Ally: Kim
Occupation: adventurer, gambler
Birth Place: USA
Race: white
Gender: male
Note: won high-stakes poker game; was attacked by loser
Jim Gale was a debonair American who entered a high-stakes poker game. He accepted a set of pearls as stake in the game. Jim Gale was rather talented at poke, and also, on this occasion, lucky. He won the game. But maybe his luck had run out...
After winning the poker game, Jim Gale was physically attacked by two of his opponents. Being outnumbered, Gale was facing long odds against them. But then fortune arrived from an unexpected quarter. A Chinese man named Kim assisted Gale against his attackers. Kim was an exceptionally talented knife thrower, and he was able to help Gale fend off the rogues who attacked him.
The next day, Gale was reading the newspaper when he saw a classified ad that caught his interest. A reward was being offered for the very same pearl necklace that Gale had won in the high-stakes poker game.
Gale went to the address listed in the ad. Who did he find there? None other than Kim, the mysterious Chinese man who had helped him out the day before.
Gale returned the pearls to the mistress of the house, a woman known only as the "Lady in Black." But Gale refused the reward that had been offered. Instead, he offers to place the reward money as stake in a game of roulette. Gale picks the address of the household (17-20) as his numbers in the game. (Gale apparently really loved go gamble!)
Late that night, a mysterious masked man entered the house at 17-20 while the Lady in Black was sleeping.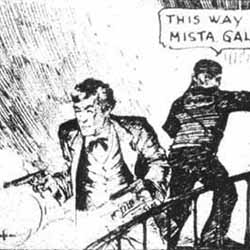 Suggested links for further research about this character and the character's religious affiliation:
- http://www.comicvine.com/jim-gale/4005-63093/
- http://dc.wikia.com/wiki/New_Comics_Vol_1_1
- https://www.comics.org/issue/94/
- http://www.comicvine.com/new-comics-1/4000-109779/
- http://dc.wikia.com/wiki/New_Comics_Vol_1_3