G-Bar


Name: G-Bar

Other Names: G-Bar Ranch

Classification:

supporting characters

group
Publisher(s):

First Appearance: New Fun #2 (Mar. 1935): "Don Nogales, Cattle Rustler: Part 2"
Creators: W. C. Brigham
Number of Appearances: 1
Enemy of: Don Nogales
Defended or Helped by: Jack Woods
Note: Jack Woods investigated Don Nogales' thefts from this ranch
Heroic cowboy Jack Woods was investigating Don Nogales, a Mexican rancher and landowner who he suspected of being a cattle rustler. Woods met Nogales and managed to impress him so much that Nogales hired him to work on his ranch.
Woods immediately went to unpack his duffel, but he looked carefully at some of the cattle on the ranch. Woods thought to himself: "I got a hunch this Nogales is doin' some dirty work. Somebody's stealin' cattle from G-Bar -- an' he's got a heap sight too many cows! I'm gonna take a look!!"
Jack Woods rode his horse closer to the cattle at Nogales' ranch. He wrestled one of the large steers to the ground and examined it closely, looking at its brand. Woods said to himself: "That's Don Nogales' brand - the Rio Grande! No more than 24 hours old, too! An' this is the G-Bar. Nogales could change it easy! My hunch was right!!"
Jack Woods used a stick to draw in the dirt. He drew the brand of the G-Bar ranch and the brand of Nogales' ranch. He could see what Nogales' people had added a bit of branding to the G-Bar brand, to make their own brand.
Looking out a window, Nogales talked to one of his ranch hand henchmen, Miguel. Miguel observed: "The gringo! He knows, Senor!"
Nogales told Miguel to kill Jack Woods that night.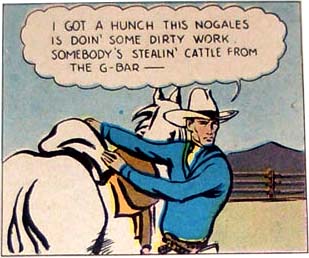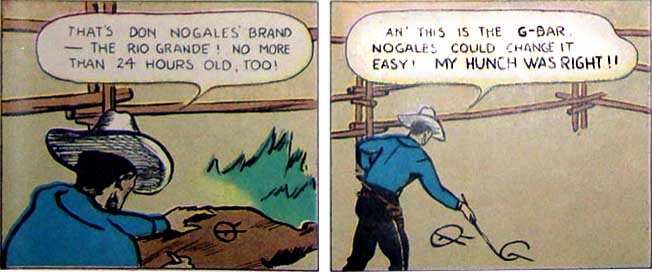 This character is in the following story which has been indexed by this website:

New Fun #2 (Mar. 1935): "Don Nogales, Cattle Rustler: Part 2"
(mentioned)

Suggested links for further research about this character:
- http://dc.wikia.com/wiki/New_Fun_Comics_Vol_1_2